Die Zudecke & Home Natural Summer Quilts
You've been snuggled up in your cozy warm quilt during the winter, but now the weather has turned for the better. It's time to treat yourself to a lightweight summer quilt.
The choice of quilts is enormous, ranging from cheap manufactures seconds to luxury White Canadian Snow Goose Down.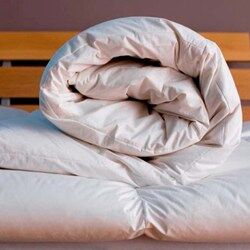 Our premium range of Die Zudecke quilts are filled with soft light weight goose down, Canadian White Snow Goose Down and Hungarian White Goose Down.
Die Zudecke summer quilts are available in 3 tog, 4.5 tog and 6 tog, so there is a quilt for everyone. We also deliver our natural Die Zudecke quilts within 48 hours.
Our Home range of Surrey Down quilts are not cheap quilts. However they are fantastic value for money and also delivered to you within 48 hours. Using duck feathers, duck down, duck feather & down, goose feathers, goose down and goose feather & down in 4.5 tog and 6.0 tog there is a great range to choose from.
All our Die Zudecke and Surrey Down duvets come with a co-ordinating range of natural pillows. For a cool and restful nights sleep treat yourself to a snuggly, soft cozy duvet today. And remember our prices wont be beaten.