Cheap Quilts, Cheap Duvets and Cheap Pillows

You get what you pay for and at Big Brand Beds we do not deal in cheap quilts, cheap duvets and cheap pillows. Somehow the word cheap makes us think of inferior quilts of low quality, poor workmanship and poor quality materials used.
What we do though is sell quality continental quilts, duvets and pillows at great prices, thus giving our customers the feeling of having purchased a cheap (£'s) quilt or pillow. We want all our customers to go away with the feeling they have a bargain, but we will never compromise on quality.
All our quilts, duvets and pillows are sourced from the industry's leading suppliers and manufacturers. Die Zudecke, Surrey Down and Nimbus provide us with top quality natural quilts, natural duvets and natural pillows at exceptionally good prices. We then pass on these savings to our customers. Our synthetic quilts and pillows are supplied by Fogarty, Nimbus, Snuggledown and Trendsetter also at exceedingly good prices. No cheap quilts or cheap pillows anywhere!
We are so confident about our pricing that we offer our customers a Price Promise. If in the unlikely event you find the same quilt, duvet or pillow for sale cheaper within 14 days of making your purchase, we will refund the difference.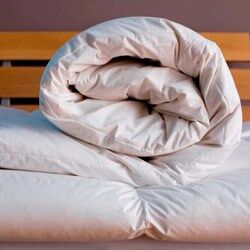 Our range of quilts, duvets and pillows are available in a wide choice of fillings which include duck feather and down, goose feather and down, duck down and goose down, hollowfibre, fibre and foam to name a few. They are available in 5 sizes - Single, Double, King size, Super King size and Emporer for those extra big beds. The tog / warmth ratings range from 3.0 tog to 13.5 tog and include all seasons / duo quilts. There really is a quilt for everyone.
Our manufacturers not only make great quilts and pillows, but offer great guarantees to back them up. In the case of Die Zudecke quilts and pillows you get a 10 year guarantee and if you buy a Nimbus quilt you also get a 10 year guarantee. As if that isn't enough you also have the confidence of buying from Big Brand Beds and vokins@home a family business that has been in retail in Sussex since 1882.
Browse our ranges of natural quilts, synthetic quilts and pillows and find something perfect for you.