SleepSoul Mattress Review The Space
We are reviewing the award winning SleepSoul Space mattress, holder of the prestigious Which? Best Buy award.
As the mattress market continues to expand, it can often be difficult to distinguish a product that is actually good from those that are just there to take your money. Any mattress that you choose should be both comfortable and supportive, and should last you a long time. Buying a mattress that is endorsed by Which? gives comfort that it is a good quality durable mattress.
This week our SleepSoul mattress review is the Space.
Which? give the SleepSoul Space mattress a very respectable score of 74% and it qualifies as a Best Buy.
What's inside the SleepSoul Space Mattress?
A 10mm top layer
A 10mm of soft foam
A 20mm of memory foam
Another 10mm layer of soft foam
1200 mini springs in king size mattress
800 mini pocket springs in king size mattress
Information on all the fillings can be found on our Birlea bed & mattress product information page.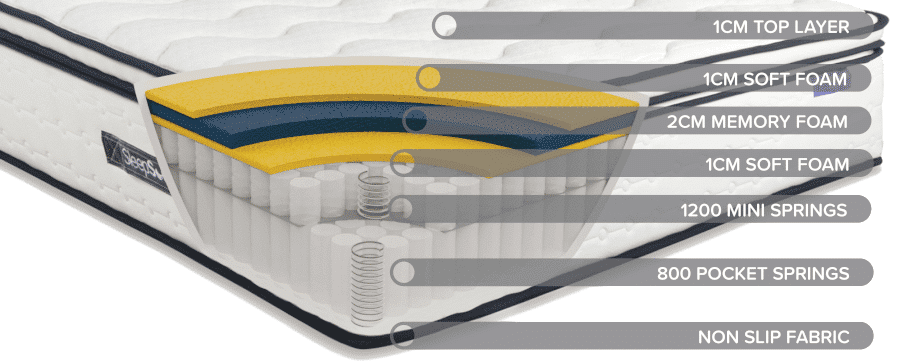 SleepSoul Space mattress finishing touches:
Soft quilted mattress cover
Box top mattress design
4 flag stitched handles to aid regular rotation
Non slip fabric on the bottom of the mattress
The Space mattress mattress has a medium / medium firm comfort level
One surprising aspect of the Space is it is a roll up mattress. It is delivered vacuum packed in a box on a next working day service. This makes it easy to handle and is especially convenient if access to the room is tight. Once you have carefully opened the mattress it is ready to use in 2 hours, however we noted the shape improved over the next 6 hours.
This is a big mattress and the weight of the box is significant. Although taking the vacuum packed mattress out of the box could have been done by one person, it was far easier with two us. On undoing the plastic wrapping the mattress sprung into shape. Unlike most single mattresses, it was easier to place on the bed with 2 people. The handles on the side of the mattress were useful in as much as they made the mattress easier to position. However care should be taken when using them to move or lift the mattress as they felt like they weren't quite strong enough and the side panel they are attached to could become damaged. We would certainly recommend caution when moving the double and king size Space mattresses using the handles.
First impressions are that this is an eye catching mattress with a stylish box top and deep quilted finish. To the touch it feels luxurious and sumptuous. Because it is a deep mattress, it absorbed my weight well when I sat on it. Lying on the mattress it is immediately evident that this medium firm mattress is supportive and comfortable. After lying on it for a while, I find moving around effortless. This is certainly a good mattress for people that prefer to sleep on their backs or sides. Having read the Which? review of this mattress I am surprised that they rate the mattress on the soft side. To quote their review:
'Our independent tests rated it as 8 on a scale from 1 (very firm) to 10 (very soft), so substantially towards the softer end of the spectrum.'
I take issue with this as I am 6'4" and 17 stone and found the mattress on the firm side of medium. Just to qualify that, our SleepSoul Space mattress is a single mattress on a wooden slatted bed frame. The smaller the pocket sprung mattress, the firmer they feel, but it is subtle.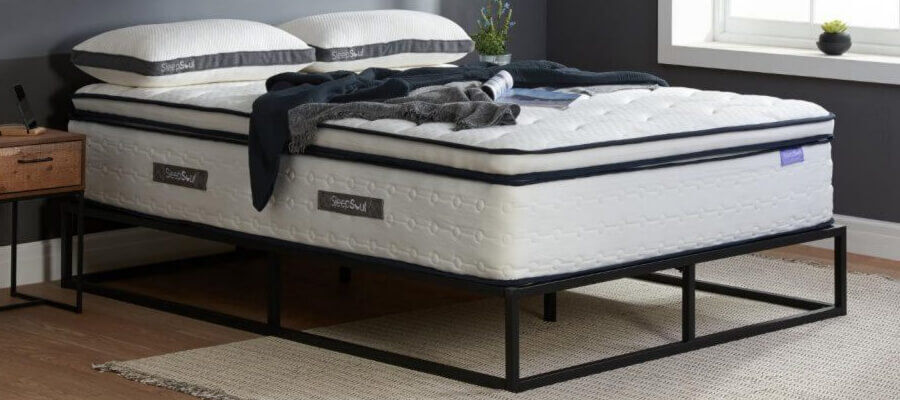 This SleepSoul mattress sits well on any base. For the best possible support and comfort a platform top divan base or a solid timer slatted bed frame should be used. For those that really want a softer feel, choose a sprung divan base or a sprung slatted bed frame.
Although this is a no turn mattress, it is recommended that it is rotated every couple of months to get the best possible performance.
Big Brand Beds SleepSoul mattress review
It's easy to see why this mattress is a Which? Best Buy as it is very comfortable and smacks of quality.
How do you fit a Sleepsoul mattress in a box?
Before you leave, if you found this article helpful would you mind sharing to your social media profiles. Thank you