Sealy Mattress Review The Messina Latex Pocket 1400
Sealy are the world's number one bed brand and have been making high quality beds since 1881.
Are you dreaming of buying a new mattress? If you are, then you should have a general idea of where to start. A lot of people don't know what to look for, which is why they might buy a low-quality mattress at insanely high prices. You've clearly done some research into the type of Sealy mattress you want and you're here. This article will try and pass on some insight we have gathered through our own experience as well as research.
This week our Sealy mattress review is the Messina Latex Pocket 1400
This Sealy mattress has a lot to live up to as it has held the prestigious Which? Best Buy award since 2015. The first thing that strikes you visually with this Sealy bed, is the luxurious soft quilted top cover of the mattress. There are no tufts, which are used to hold layers of fillings in place. This is because the top layer of this Sealy mattress is a generous layer of latex which does not need to be held in place.
What's inside the Sealy Messina Latex Pocket 1400 Mattress?
This no turn Sealy Messina Latex Pocket 1400 Mattress comprises:
1400 pocket springs
Natural latex
Unirail foam encapsulation
Spring insulator pad
Smart fibres
Sealy Messina Latex Pocket 1400 Mattress finishing touches:
Moisture reducing soft touch mattress cover
Microquilted zoned pillow top layer
Quilted border
Flag stitched handles
The Messina Latex Pocket 1400 is available in a medium soft tension
Information on all the upholstery fillings and springs can be found on our Sealy Information page.
Before I try any bed, I like to see what my options are regarding sizes, storage and upholstery. The Sealy Messina Latex Pocket 1400 bed is available in all standard UK sizes from single to super king size. There are multiple storage options including storage drawers and ottoman beds. Whether you're looking for a bold and eye-catching pattern or prefer a more subdued colour palette, Sealy have upholstery fabric to suit every taste. Browse through the Sealy fabric library to see what we have to offer, and start dreaming up your bed. Last check for me is 'kerb appeal'. A strange one I know, but I like a modern house and Sealy have kept bang on trend with the design and color choices of this bed and they lure me in.

To start with I sat on the side of the bed for about 5 minutes. In a showroom this may have looked a little strange, but how many of us do this. I certainly do. I sit on my bed whilst on my phone, whilst putting on socks, even when I'm chatting to my partner. It is important to see how the sides of this Sealy mattress cope with my weight. I'm slim, but sitting on the edge of this mattress concentrates all my weight into a smaller area compared to when I am laying down. I'm pleased to say it held up very well. Some Sealy mattresses, including this one, have a unirail foam encapsulation system which is a high density foam strip placed inside the edge of the mattress. This basically gives you the entire area on the bed to sleep on without any rolling off sensations. The pocket springs on the edge of the mattress don't collapse due to the foam unirail which provides firmer support to the springs.
I lay on our king size Sealy mattress for about 15 minutes. It feels very easy to turn over on and will cause minimum disturbance to your partner. I feel almost consumed by this bed, the relaxing yet supportive feel of the super quilted top with zoned layers of latex was giving me the urge to grab a duvet and go to sleep. It's a good mattress for side sleepers and those that sleep on their backs.
One thing that surprised me is Sealy classify this as one of their softer mattresses. They describe it as being medium soft but feels more like a medium to medium firm mattress. Part of this might be down to my weight as I am only 11 stone, but it still feels extremely comfortable. If I can feel like this comfortable in our showroom, I'm sure the Sealy Messina would be a great bed to sleep on.
A big benefit is it is a single sided no turn Sealy mattress, that requires occasional rotation. And the good news is its light enough to rotate on my own.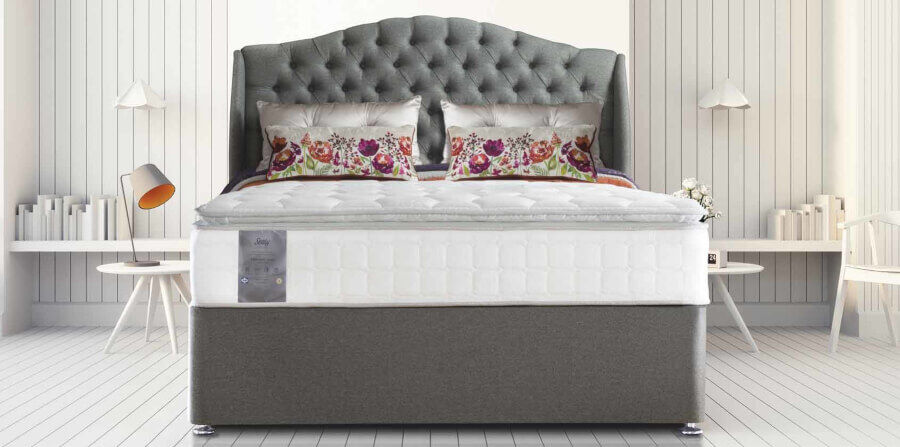 Marks Sealy mattress review
The Sealy Messina mattress has so many pro's and I am struggling to find cons. It will make you feel like you're sleeping in a 5 star hotel. It's not the cheapest mattress but it does come with a 5 year guarantee from Sealy, the world's number one bed brand.
Before you leave, if you found this article helpful would you mind sharing to your social media profiles. Thank you
Originally reviewed 11 March 2016 & Updated