Sealy Mattress Review The Alder Memory Deluxe
There are a number of different Sealy mattresses on the market, so it can be confusing to work out which one is the best one for you. Each one has its own unique qualities, and they're all very good. The key is to find the one that suits your individual needs.
Align your body and your sleep will improve with a Sealy bed, the mattress that's perfectly engineered to support your body's natural curves. Sealy mattresses are designed to support all sleeping positions, so you can wake up refreshed and ready to face your day.
This week my Sealy mattress review is the Alder Memory Delexe
This is my third weekly review, and under the microscope this week is the Sealy Alder Memory Deluxe Divan Bed. We like to review Sealy mattresses that are in our bed shop.

What's inside the Sealy Alder Memory Delexe Mattress?
This no turn Sealy Alder Memory Delexe Mattress comprises:
744 Responsive inner springs
Memory foam
Edge guard
Smart fibres
Sealy Alder Memory Delexe Mattress finishing touches:
Moisture reducing soft touch mattress cover
Quilted border
Flag stitched handles
The Alder Memory Delexe is available in a medium tension
Information on all the upholstery fillings and springs can be found on our Sealy Information page.
To start off, visually this Sealy bed is very appealing. The Sealy Posturepedic mattress has a cover which incorporates eco-friendly Tencel, It's a new 'smart fibre' that is designed to keep you at a optimum temperature to ensure a good night's sleep. Also being hypoallergenic it's approved by Allergy UK as it helps in the reduction in dust mites. Basically this doubleSealy mattress looks great with its soft and plump knitted mattress cover in our bed shop.
Being all excited to lie on this comfortable looking Sealy bed for the next half an hour, after all it was an excuse for a paid rest break; I headed over to try it. My first thought was after that initial soft silky feel of the cover I could feel the deep layer of 40mm of luxury memory foam. It felt very supportive compared to similar mattresses I've tried that are much softer. Now this mattress has weight responsive posture springs so the support is there for all body sizes.
One thing that I found fantastic, was once I got into my usual sleeping position this Sealy mattress contoured itself to my body shape. The memory foam layer really kicked in contouring my body. I felt support from head to toe and not once did I feel the need to change position. Even though I sleep on my side I could feel the pressure being relieved from my lower back, hip and shoulder area. Although rated as a medium comfort mattress, the feel is on the firmer side of medium.
Spinal alignment is an important and sometimes overlooked issue Only when people already have a problem do they look at mattresses that will correctly support them. The Alder Memory Mattress has a PosturePedic seal of approval to guarantee a natural, supportive sleeping position
The Sealy Alder Memory Deluxe bed comes on a platform top base which complements the mattress to its highest potential. It allows the responsive inner springs used in this Sealy posturepedic mattress to do its job and makes sure you will feel refreshed every morning.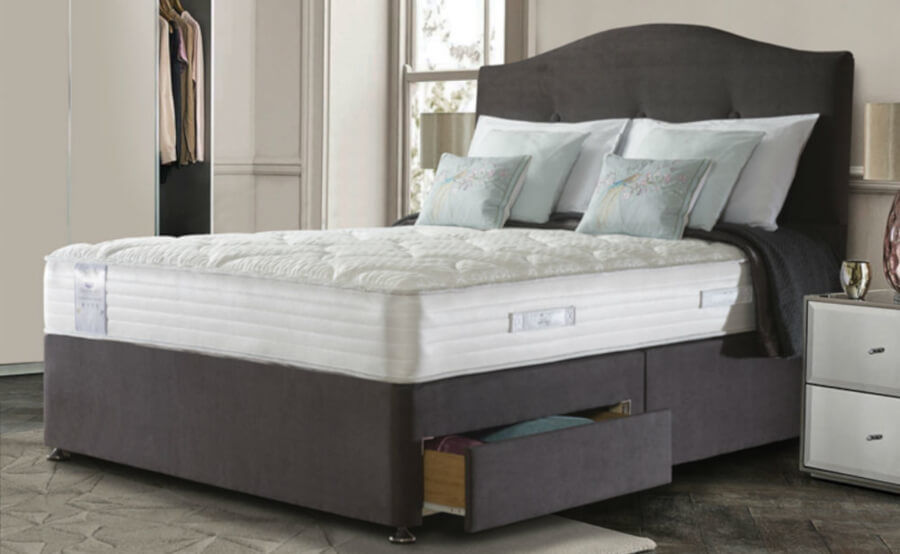 As with most divan bases, you still get multiple choices, ranging from non-storage to a full 4 drawer unit. There's even an ottoman for those that require extra space. There's a choice of fabrics which you can have your Sealy divan base upholstered in. They have a good choice of neutral fabrics which would blend with any room décor you have, our some bolder options
Sealy Alder Wool Mattress
Since first reviewing this best selling Sealy mattress, Sealy have introduced a range built to the same specification, but for those that are not so keen on a memory foam mattress. The Sealy Alder Wool Deluxe is now proving incredibly popular as an alternative.
Marks Sealy mattress review
A bed of this quality and with so many benefits, I don't think I could find a better divan and mattress set that starts at £449.00. Made in Britain with 5 year guarantee. It's not hard to see why this Sealy posturepedic bed is one of our best sellers.
Before you leave, if you found this article helpful would you mind sharing to your social media profiles. Thank you