Relyon Mattress Review The Relyon Aurora Memory Deluxe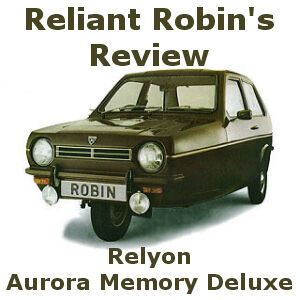 We are working through reviewing our range of beds and mattresses in our new showroom at 6 Keymer Road, Burgess Hill, West Sussex, RH15 0AD.
We like to think of Robin as being a dependable / reliable colleague. He's reliant as well as being a bed expert. Along with his love of cars the Reliant Robin image just works!
This week I'm focusing on the Relyon Aurora Memory Deluxe divan set. Many of our customers tell us that they have had their bed for a long time and it is still comfortable, although starting to show signs of wear. Modern advanced technology has improved in manufacturing to such a degree that they are often surprised by the comfort offered by a new bed. The Relyon Aurora Deluxe divan and mattress is a prime example.
My first impression when lying on this bed was the 1500 pocket springs in the king size showroom model gave me all the support required for my 14 stone frame. I sunk into the double layer of memory foam which provided additional comfort. It wasn't too soft as the spring unit gave a medium firm feel to the mattress whilst the memory foam filled those voids in my back. The intricate spring system used by Relyon means there is minimum disturbance to your partner.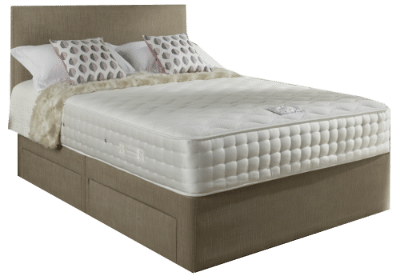 Another benefit of particular interest to me and many of our customers is that the Relyon Aurora mattress is a no turn variety. It does not require the rather physical procedure of turning the mattress over on a regular basis. This is an added bonus for older people and those prone to back problems. However as with all no turn mattresses we sell, we do recommend that they are rotated on a regular basis.
Turning my attention to the base, there are numerous options. The bed comes as standard with a platform top base. However for those who prefer a slightly softer feel a sprung base is available. You can then decide on whether or not you require a storage option. At the time of writing this review, the bed is on offer with 4 FREE storage drawers. There is also an ottoman option for those that require even more storage space. The final step is to decide whether the Linen or Taupe upholstery fits in with your bedroom décor best.
Overall my feeling is that the Relyon Aurora Memory Deluxe is an extremely comfortable bed. It offers great support that will give you an excellent night's sleep. If you are looking for a bed that combines great comfort with great value, visit our showroom at 6 Keymer Road, Burgess Hill, West Sussex, RH15 0AD.
After all you can rely on Relyon and of course Big Brand Beds!
First published 8 March 2016