Hypnos Bed Review The Hypnos Trio Guest Bed
Easter has now been and gone and whether you filled up on chocolate or just spent time with friends and family the one thing we all seem to have is guests coming to stay.
Mostly planned but some just have too much wine and need a bed to sleep it off or your children's friends want a sleepover. Now we're all happy to offer a friend a room for the night, but often we have that last minute thought, where are they going to sleep?? Well don't worry help is at hand. There's a great Hypnos guest bed on the market. Some might refer to it as a Hypnos trundle bed.
This week my Hypnos bed review is the Trio Guest Bed.
When people think of guest beds, 2 in 1 beds or trundle beds as some say, they often imagine an old bed hidden under the stairs covered in dust that needs a quick wipe down. But in recent years guest beds have come far. I mean Premier Inns and Holiday Inns use Hypnos beds in their bedrooms so imagine staying at a friend or relatives house and seeing the same name on a guest bed for you.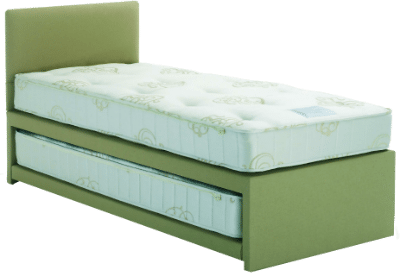 We have a 90cm (3ft) Hypnos Trio in our showroom at the time of this review so I thought I'd have a go at putting it together to see how easy it is. I mean we don't want to be spending hours making the bed up when your guest just wants to sleep. When I say putting it together I mean setting it up for guests. part of our delivery service is the assembly of your Hypnos bed and the removal of all packaging.
Now I must say no more than 5 minutes later I had the under-bed up and ready to go, it slides out on castors and has spring assisted metal legs that were a breeze to open up and felt as stable as any bed I've tried. The under-bed comes up to the same height which means if they are being used in the same room it gives the feeling of a permanent bed as opposed to a guest bed. The genius part is as both beds set up at the same height, Hypnos are able to put a zipped mattresses on it, which means you don't have to have 2 single beds. They can pushed together and the mattresses zipped to make one large guest bed, making it ideal for couples that come stay. The benefit of this is when it is not in use it only takes the space of a single bed for your home.
Comfort is key; I've been the victim of staying somewhere last minute and getting either the sofa or a camping airbed. Nothing is worse than waking up with terrible back, shoulder or neck ache but hiding that fact so your host isn't embarrassed. Now I tried both mattresses on this bed the main one and the under-bed one and I honestly couldn't tell the difference between these and the others I have in the showroom. The 1000 spring count gives great support and gave me a comfortable well earned rest. They are on platform tops which compliment the Hypnos mattress to its best potential and I felt like I could sleep on this every night let alone the occasional night.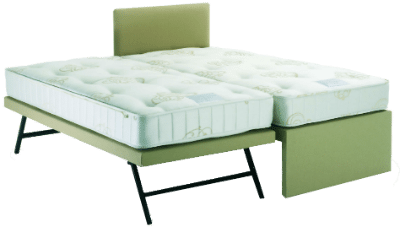 This Hypnos guest bed comes in 2 sizes if space is key, with several options. Single 90cm (3ft) + 90cm (3ft) trundle bed, and a small single 75cm (2'6") trundle bed and 75cm (2'6") under-bed. There is also the option to mix and match and have a single frame with a small single trundle bed. Once you've decided on the size you then have the choice of pocket sprung or open coil mattresses. In my opinion I would choose the pocket sprung mattresses as I find them more supportive for my size and shape.
These beds aren't designed to be hidden anymore, with a wide range of fabrics to be upholstered in and headboards to match; they stand proud in any bedroom with a welcoming feel of luxury and quality.
Marks Hypnos bed review
My final analysis for the Hypnos Trio Guest bed is a fantastic leap forward within the guest bed ranges out there. As comfortable and supportive as any big branded mattress on the market but with multiple choices. Use them as 2 individual beds or one large bed through the zip and link system. Hypnos haven't held back with this, 1000 spring count with layers of cotton and sumptuous soft white fibre. The Hypnos Trio Guest bed certainly a bed I'd be happy to use as a guest somewhere.
Before you leave, if you found this article helpful would you mind sharing to your social media profiles. Thank you
Originally reviewed 1 April 2016