Wool in Beds & Mattresses. Countryfile BBC1 Sunday 13th July
Some people love football, others detest it. However, the World Cup Final is a special occasion. Preceding the BBC's coverage of the Germany v Argentina final is a family favourite, Countryfile. This programme regularly attracts 5.5 million viewers, so it will do the bed industry no harm that last week they featured an example of a UK bed company using British wool in the manufacturing of natural, luxury mattresses.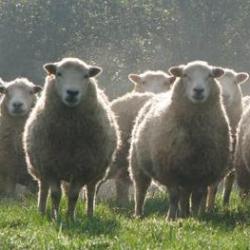 Resident Countryfile farmer Adam Henson was very interested in the unique benefits of using natural fillings within mattresses, how they contribute to a better night's sleep and consequently, healthier living. Adam and his team were genuinely impressed by what is being achieved at Harrison Spinks and the support the business provides to the British farming community.
Adam also went on to visit the main production sites in Leeds, where he toured the blending units and the mattress production lines, to see for himself, the extensive use of sumptuous, natural fillings and the craftsmanship required to create such refined mattresses.
The benefits of using wool in a mattress are numerous and it is for the following reasons that our top suppliers Hypnos, Relyon, Sleepeezee, Staples amongst others use it.
Wool is environmentally friendly being natural, biodegradable, renewable and recyclable
Air flows through wool
Wool naturally wicks away moisture from the body
Wool regulates body temperature and is warm in the winter and surprisingly cool in the summer
It is soft and resilient providing relief for pressure points
Wool is naturally flame retardant
View our range of Hypnos mattress that use wool online today.