Where to Start When Picking an Orthopaedic Mattress
First off, what is an orthopaedic mattress? Well, generally an orthopaedic mattress is a slightly firmer mattress that can help people with back troubles. Around 40% of us a year will suffer from back problems, a lot of which stem from having an unsuitable mattress for your spine.
Now there is a common misconception that if you have a bad back you should sleep on a very firm mattress – or even on the floor! But this isn't true for everyone. Indeed, a lot of back pain issues are more suited to a medium to firm mattress. Before buying an orthopaedic it's best to research for your own condition as one person's back pain can be very different from another person's.
Back pain stems from your spine not getting enough support when sleeping. An orthopaedic mattress distributes a person's weight which prevents unnecessary pressure on your spine. This should benefit your entire body meaning you get a longer, better quality sleep and find yourself waking up with less pain in your back.
There are a number of different types of orthopaedic mattresses on the market – which one you choose will depend on your own needs:
Memory Foam Orthopaedic Mattresses
Memory foam was originally developed by NASA in the 1960s meaning it's fancy enough for astronauts to use so it must be pretty good for us too! Memory foam is good for your body as it moulds to your shape reliving pressure from your spine plus, when you get off, it springs back into shape.
People tend to think that memory foam will be too soft for bad backs however this isn't the case. The firmness of the mattress actually depends on the thickness of the memory foam mattress you choose, which means you can choose one suited to your needs. The Sealy Alder Memory mattress is a particularly great orthopaedic mattress as not only will it help your spine but it also has cooling properties and is hypoallergenic.
Open Coil Sprung Orthopaedic Mattress
Open coil sprung mattresses tend to make for very firm mattresses. These orthopaedic mattresses work by giving extreme support to your spine and can be beneficial to long-time sufferers of back pain. They also tend to have a long life span. The Sealy Ortho Backcare Excel is a great example of this.
Pocket Sprung Orthopaedic Mattress
Pocket sprung mattresses have individual springs nested into pockets. The individual springs will respond to your body's shape and movement during the night to give your back the support and comfort it needs. It's also more comfortable if you have a partner as if you move a lot during the night your partner is less likely to feel this movement.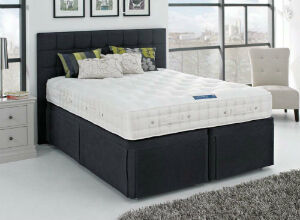 If you are interested in a pocket sprung mattress then the Hypnos Orthocare 10 mattress is a particularly good mattress for alleviating back pain. In this mattress each pocket spring has 10 active turns to make it very responsive to your body's movements. The Hypnos Orthocare 10 mattress is upholstered with cashmere and wool to help maintain body temperature for an even better night's sleep. And for those that want a really firm bed, this is available in a firm and extra firm tension.
Which orthopaedic mattress you choose will depend on your own circumstances. If you need help or advice please contact us and we will be happy to help.