What is a Memory Foam Mattress?
Memory foam is polyurethane with the addition of chemicals which increase its viscosity / thickness and its density.
The bed industry regularly refers to memory foam mattresses as visco-elastic. A memory foam mattress is temperature sensitive and softens when in contact with heat (the body heat of the person sleeping on it). A high density visco-elastic memory foam mattress will require a few minutes to mould to the shape of your body and is more suited to a heavier person, whilst a lower density memory foam mattress will form the body's shape much quicker.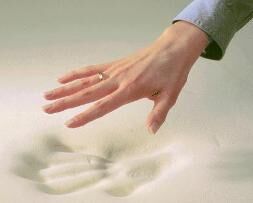 Visco-elastic memory foam mattresses are pressure-relieving mattresses that give your body the best possible support and comfort, thus providing a peaceful and restful night's sleep. The user will enjoy a quality night's sleep and generally wake without the usual aches and pains that many people regularly feel. Much research has been carried out into Visco-Elastic memory foam mattresses worldwide. Many benefits have been found and the mattresses are recommended and used by many people in the health sector.
At Big Brand Beds we stock a wide range of memory foam mattresses and our ranges from Breasley and Relyon are all available for immediate FREE home delivery.
Our collection of Breasley memory foam mattresses will be delivered to you the next day if ordered before 10.00am. The different quality mattresses are available, from inexpensive foam to sumptuous memory foam with pocket springs. The cheapest Breasley mattress, the Breasley Valuepac Graduate Plus starts at £89 for a single mattress, with the top of the range Breasley Flexcell Pocket 2000 Cocona single mattress starting at only £269. Breasley manufacture memory foam mattresses in many sizes including single mattresses (3'0"), small double mattresses (4'0"), double mattresses (4'6"), king size mattresses (5'0") and super king size mattresses (6'0").
Our Relyon collection of foam and memory foam mattresses are available for next day delivery if ordered by 11.00am. The Relyon Easy Support mattress starts at £89 for a single mattress. The Relyon Memory Contentment mattress is a combination of pocket springs encased in foam / memory foam and sells for £219 for a single mattress.
Memory foam is now widely used as a filling on sprung mattresses and pocket sprung mattresses. Myers mattresses, Relyon mattresses, Sealy mattresses, Silentnight mattresses and Slumberland mattresses are just some of the manufacturers that combine springs and memory foam. The Slumberland Galaxy Memory Comfort divan and mattress is one of our best selling beds that combine the two. Another is the Sealy Ascot Platinum divan and mattress which has a micro-quilted cushion top mattress with a generous layer of memory foam.
Whether you require a Breasley or Relyon mattress for FREE next day delivery or a luxurious Sealy mattress, now is the time to look at our range of great mattresses.