Vokins Family Complete 125 Years Trading in Sussex
The Vokins family have been trading successfully in Sussex since 1882, when my Great Grandfather opened the first shop in Brighton.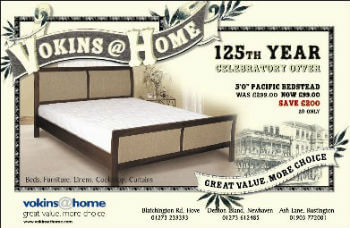 It is incredible to think that 125 years later, the business and in particular, the Vokins name is still on the high streets of Sussex. For this, we have to thank all of our customers, past and present.
For 15 days we will be promoting a 125 Year Anniversary Sale. Our Design and Marketing team have reworked an original logo and image from 1920, when the store was trading in North Street, Brighton under the name of Leeson & Vokins.
As the promotion of beds, bed frames, folding beds, mattresses, quilts, duvets, pillows and bedding progresses, we will add copies of any advertisements we run to this article.
We are very proud of our heritage and continue to trade with the same high standards and values that my Great Grandfather, William Henry Vokins demanded during his time at the helm.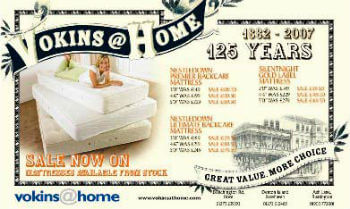 Our suppliers have been extremely good to us and we have some amazing offers on Silentnight beds, Silentnight mattresses, Sleepeezee mattresses, Fogarty hollowfibre quilts and
pillows, Die Zudecke goose down duvets, Dorma quilt covers, Beldorm bedding and much more.
All of the offers are backed with stock, so there is no waiting for your bed or mattress to be ordered. We can deliver your goods locally almost within the week.
All of the offers are available at all of the vokins@home stores, with the exception of cushions, whcih we do not stock in Newhaven.
We look forward to welcoming you to one of our stores soon.
---
125th Anniversary Sale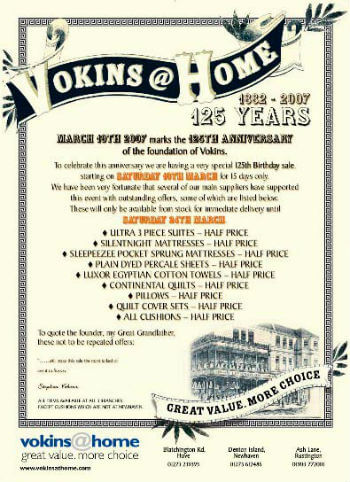 To celebrate this anniversary we are having a very special 125th Birthday Sale of beds, mattresses, bed linens, quilts, pillows etc, starting on Saturday 10 March for 15 days only.
We have been very fortunate that several of our main suppliers have supported this event with outstanding offers, some of which are listed below.
These will only be available from stock for immediate delivery until SATURDAY 24TH MARCH.
ULTRA 3 PIECE SUITES – HALF PRICE
SILENTNIGHT MATTRESSES – HALF PRICE
SLEEPEEZEE POCKET SPRUNG MATTRESSES – HALF PRICE
PLAIN DYED PERCALE SHEETS – HALF PRICE
LUXOR EGYPTIAN COTTON TOWELS – HALF PRICE
CONTINENTAL QUILTS – HALF PRICE
PILLOWS – HALF PRICE
QUILT COVER SETS – HALF PRICE
ALL CUSHIONS – HALF PRICE
To quote the founder, my Great Grandfather, these not to be repeated offers:

"……will make this sale the most talked of event in Sussex." Stephen Vokins
All items are available at all 3 branches except cushions which are not available at Newhaven.
---
W. H. Vokins Sale 1932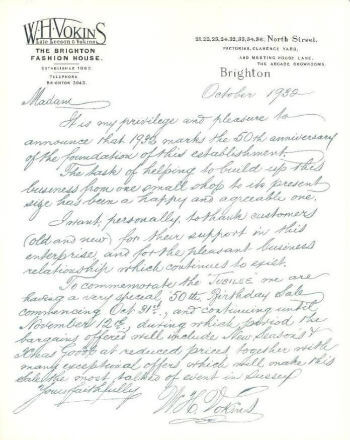 This is a letter that my Great Grandfather sent out to Vokins customers in October 1932 to promote the 50th anniversary of the business.
We tend to think of direct mail as a relatively new advertising medium, but clearly it was alive and well at Vokins 75 years ago.
However today when vokins@home and Big Brand Beds advertise our beds, mattresses, goose down duvets, pillows and bedding we have full colour printed brochures, which we send to our customers, not beautifully written letters.
October 1932
Madam,
It is my privilege and pleasure to announce that 1932 marks the 50th anniversary of the foundation of this establishment.
The task of helping to build up this business from one small shop to its present size has been a happy and agreeable one.
I want, personally, to thank customers (old and new) for their support in this enterprise, and for the pleasant business relationship which continues to exist.
To commemorate the "JUBILEE" we are having a very special 50th Birthday Sale commencing Oct 31st, and continuing until November 12th, during which period the bargains offered will include New Seasons & Xmas Goods at reduced prices, together with many exceptional offers which will make this Sale the most talked of event in Sussex .
Yours faithfully
W H Vokins
---
History of the Vokins Stores Advertising 1880's - 1890's
Over the coming months we'll be putting together a timeline of adverts used by Vokins.
Originally founded in 1882, the Leeson & Vokins partnership traded from a shop in North Street Brighton, just down from Ship Street. Over the coming years further freehold properties were purchased in Brighton.
The Leeson & Vokins partnership was dissolved in 1924. By the mid 1930's several of the properties had been knocked together to form one large department store. The trading name W H Vokins Limited was first used in 1937. It remained in use until Vokins Limited as a company became available in 1983.
The North Street store closed in January 1997. David Vokins went on to run the successful furniture centre that the family had opened in 1985 and closed in February 2015. Stephen Vokins took over running the linens and beds stores in Hove and Rustington, which continue to trade today.
We still pride ourselves on our independence, service and expertise. After all, we have a fine tradition to follow.
Advertising
The first advert / advertorial that we still have record of was one placed in Progress, a monthly magazine announcing the annexation of premises, 32-33 North Street, Brighton opening of new departments and showrooms on the ground floor. This dates back to 1886.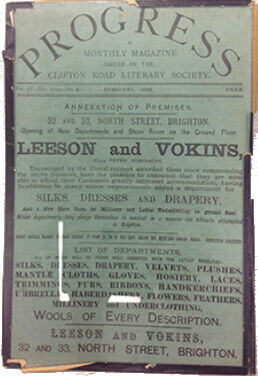 The first Sale Advert we have dates from May 1894. The strap line is 'Sale of an Entire Stock of Drapery'. My Great Grandfather William Henry Vokins had purchased the entire stock from the trustees of Henry Sturt to be offered at exceedingly low prices to affect a speedy clearance. The sale started on Wednesday 16th May 1894. The advert states 'All parcels delivered Free by our new Vans'. I particularly like the line 'A VISIT OF INSPECTION is most Respectfully Solicited'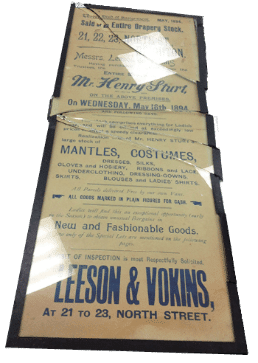 28th June 1895 sees the 'Great Clearance Sale' previous to extensive alterations. Once again a polite call to action strap line is included. An Early Call is most Respectfully Solicited