True Love – A Luxury Mattress for your Valentine
Chocolates and a bouquet of flowers might be the traditional Valentine's Day gift of choice, but is it what you and your partner really need?
Studies are showing that the romance in our relationships is starting to disappear. In fact, one study in particular has shown that an astonishing 80% of couples don't kiss each other good night and 90% don't say "I love you" before going to sleep.(Source Daily Mail 5/2/16)
So what happened to the romance? Well a lot of the problem lies in our sleeping habits. After you wake up from a bad night's sleep it's said that you will feel annoyed and less appreciative of your partner. Just imagine how your relationship will suffer if you have a bad night's sleep maybe three or four times a week! We all know what it's like when you're tired. You can be grumpy, short-tempered and you definitely don't perform at your maximum potential. Now is the time to take make a conscious effort to improve your sleep and bring back the romance.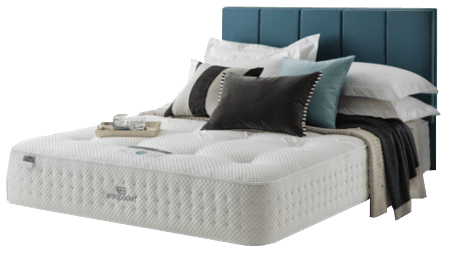 But where do you start? Well first of all you've got to pinpoint exactly what's causing your restless night's sleep. One of the top reasons for a lack of sleep at night is to do with temperature. We all have our own preferences when it comes to how warm we like to be when we sleep. Just because you like to sleep in a cooler atmosphere doesn't mean your partner wants to keep waking up cold.
You can now invest in mattresses that will actually regulate your own body temperature during the night so that you are always at your optimal temperature and so is your partner. And that isn't the only benefit to a new mattress. If you own a mattress that is over eight years old then you should really think about replacing it.
A bad mattress can seriously affect the quality of sleep you get at night – it won't provide your back with support and you'll probably find yourself tossing and turning during the night. Which in turn will annoy your partner. Memory foam and Geltex mattresses, in particular, can help stop this. Not only will your spine be given more support, providing you more comfort, this will therefore give you an easier environment to get to sleep. Plus, if you move a lot in your sleep on a memory foam or geltex mattress your partner won't feel it as the mattress will absorb the movement.
Of course, we all know what annoys us most when we're trying to sleep – a snoring partner! Now you might be surprised that a new mattress, just like it will help regulate temperature, can also help with your partner's snoring. Something supportive like a Silentnight Mirapocket Geltex Topaz 2000 mattress can make it much more comfortable to sleep on your side, a position that helps ease snoring. Trying to maintain a healthy weight and trying to clear the nasal passages with steam before bed can also help a lot.
So really, instead of the forced chocolates or flowers this year, why not use this Valentine's Day as an excuse to treat you and your partner to a brand new mattress. Once you can both get a good night's sleep you'll likely find that the romance just pops back into your lives.