Stuart Jones Bedroom & Occasional Furniture Update
Stuart Jones have appointed an In-House Designer to their team. Nick Akhurst, who has a degree in Product Design from Brighton University, will be based at their factory in Rustington, West Sussex. They have been manufacturing handcrafted bedroom & occasional furniture there since 1973.
Nicholas is a 3D designer with a wealth of experience. He has a thorough understanding of furniture design and construction, and is skilled in graphic visuals and 3D models.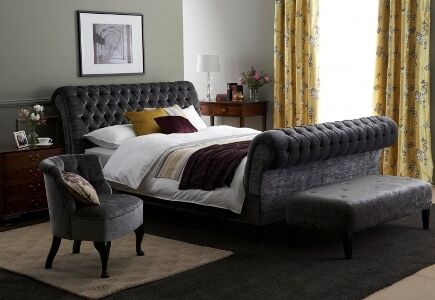 The merger of Stuart Jones traditional techniques with fresh ideas and modern technology will enable new, exciting products to be developed and enhance the bedroom furniture range.
Stuart Jones are Big Brand Beds leading supplier of headboards and occasional bedroom furniture. It makes sense really as they are close neighbours of ours in Rustington.
Whether chic and stylish, or timeless and traditional, Stuart Jones skilled craftsmen can transform your bedroom. They have a wide range of furniture and fabrics, in varying sizes and finishes. The room shot of the Mozart bedstead with its luxurious Italian styling, deep buttoning and scrolled head and foot ends and the Bellini chair pictured, shows this perfectly.
If in the unlikely event, one of their fabric isn't suitable for you, their bespoke service offers further flexibility as they will happily upholster their product in a client's own material.
For more information on their extensive range follow the link to Stuart Jones Bedroom Furniture