Sleepeezee - History of one the largest bed makers in the UK

Since the early 1900's Sleepeezee has developed and grown into one of the leading and most respected bed manufacturers in the UK.
The Kent based factory, recognized and highly regarded for its craftsmanship, design and innovation, has built and maintained an enviable reputation for being the largest pocket sprung bed producer in the UK.
Sleepeezee's bed and mattress collection has been carefully orchestrated to offer a wide choice of superior support systems, the very latest technologies along with the most sumptuous, natural fillings that together deliver an exquisite level of style, comfort and support.
Sleepeezee prides itself on traditional qualities of design and craftsmanship. To this end every product is built to a premium standard, with every detail meticulously checked for consistent, high quality. This provides complete reassurance to every customer who chooses to enjoy superior sleep.
A Royal Warrant from his Royal Highness The Prince of Wales reinforces Sleepeezee's reputation for service, excellence and the best of British Quality.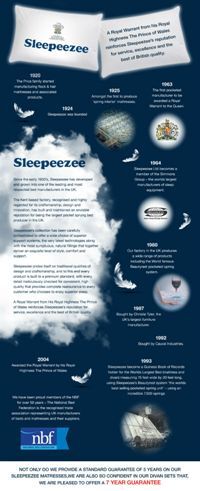 1920 – The Price family started manufacturing flock and hair mattresses and associated products
1924 – Sleepeezee was founded
1925 – Amongst the first to product 'spring interior' mattresses
1963 – The first pocketed manufacturer to be awarded a Royal Warrant to the Queen
1964 – Sleepeezee Ltd becomes a member of the Simmons Group, the world's largest manufacturers of sleep equipment
1980 - The factory in the UK produces a wide range of products including the world famous Beautyrest pocketed spring system
1987 – Bought by Christie Tyler, the UK's largest furniture manufacturer
1992 – Bought by Cauval Industries
1993 – Sleepeezee become a Guiness Book of Records holder for the world's largest bed (divan & mattress) measuring 15 feet wide by 20 feet long. The bed featured the Beautyrest system, which at the time was the world's best selling pocketed spring unit. The mattress had an incredible 7500 individual springs in it.
2004 – Awarded the Royal Warrant by his Royal Highness The Prince of Wales
View or Sleepeezee beds and Sleepeezee mattresses online today.