Queen's Birthday 21st April 2013. Celebrate with Sleepeezee
HM The Queen's actual birthday is 21 April and is celebrated in private with her family. This year she will celebrate her 87th birthday. Her official birthday is 12 June. King Edward VII began the tradition of two birthdays as he was born in November and wanted summer time celebrations.
What better way for Big Brand Beds to celebrate the Queen's birthday, than promote for the day our bed manufacturers that hold the prestigious Royal Warrant.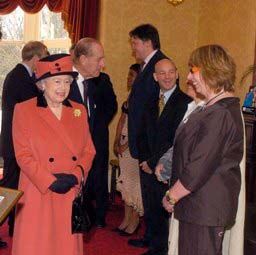 Warrants are generally granted for 5 years by a Grantor. Currently there are 3 Grantors, HM The Queen, HRH The Duke of Edinburgh and HRH The Prince of Wales.
2 of our suppliers hold a Royal Warrant, Sleepeezee and Staples. Sleepeezee were granted their Warrant by HRH The Prince of Wales in 1984. Staples were granted their Warrant by HM The Queen, Master of the Household in 1955.
Both Sleepeezee and Staples beds manufacturer quality pocket sprung divan beds and mattresses and have been major suppliers to vokins@home and Big Brand Beds for many years.
So for the weekend of Saturday 20 & Sunday 21 April we will have to come up with a right royal promotion to encourage our customers to invest in a new Sleepeezee or Staples divan bed.
That way you will be able to sleep like a king or queen.
You might not want to wait so long to replace your bed. If so, visit our great range of Sleepeezee beds and Staples beds today by following the links.
The photograph of HM The Queen and HRH The Duke of Edinburgh was taken at the Theatre Royal, Brighton on 8th March 2007, when i was lucky enough to be invited to meet them.