Ottoman Beds – A Space Saving Solution
In every home space and storage comes at an absolute premium. After-all, you can never have too much storage in your lives.
Unfortunately, these days, not all homes come with lots cupboards or large in-built wardrobes in which you can store your bedsheets, towels and spare clothes. So where do you put it all?
Well when it comes to storage you need to be clever, with lots of hidden places to hide away the belongings you don't want on show. Think trunks, vacuum packing and furniture with hidden storage. And what better piece of furniture to use for storage than your bed!
Yes, that's right, you read it correctly. You can purchase a bed that looks like a divan, but is actually hollow inside giving you lots of space in which to hide away belongings.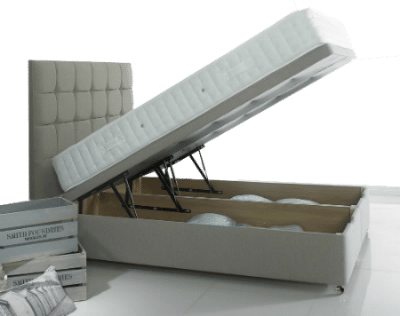 Ottoman Beds are different from other storage beds, which might only offer enough space for a few spare blankets, in the fact that the entire Ottoman hollow box is used for storage, giving you much more room for your storage. The bed simply lifts with no effort on your part due to the gas-lift hydraulics. When lifted these hydraulics will also keep your bed in place, meaning you can get to your belongings without any hassle. The bed will similarly return to place with zero effort – just gently tap the mattress and it will come back down.
Now you might be thinking that with all the benefits of an Ottoman bed then there must be a compromise somewhere – most likely on the style. Well then, you will be pleased to know that not only will an Ottoman give you an innovative way to store belongings; these beds can also be incredibly beautiful creating a wonderful centre piece to your bedroom. Pictured right Relyon Pocket Memory Classic Ottoman
Most of the beds we have at Big Brand Beds have an ottoman option, which can be upholstered in a wide range of fabrics to match your décor. All you then need is a glamourous headboard and your room will look perfect. If a matching upholstered headboard isn't for you, look no further than Serene headboards. Their range includes luxurious floor standing metal headboards and solid oak strutted headboards.
Ottoman beds aren't just for grown-ups though, just think how useful a single-frame Ottoman would be in a child's bedroom. Spare toys, bed clothes, shoes etc. An Ottoman is a wonderful method of storage in your home.
Of course, the happy knowledge that your belongings are safely hidden from sight won't be the only thing that will help you get to sleep. Not only will your new Ottoman and matching mattress provide you with a wonderfully comfy place to sleep, but there are benefits to having less clutter in your room too. Studies have proven that the less clutter in your room will help reduce the clutter in your mind leaving you feeling more relaxed and calm. We all know that to get to sleep quickly, and for a better quality sleep, the calmer you feel the more likely you are to benefit from better sleep.
If you're interested in swapping your bed for an Ottoman why not have a look online at our range of Ottomans or speak to one of our team who will be happy to help you find your perfect storage bed solution.