Jay-Be Folding Beds for Christmas

It's not just gifts that Santa Clause will bring this festive season. The Christmas season also brings lots of family and friends to your home, but what happens when one guest has too much sherry trifle and needs to stay the night?
Well before you try and create a makeshift bed on the sofa, have you ever thought about investing in a folding bed? Now we know what you're thinking, folding beds used to be awful. Not only were you likely to lose a finger assembling one, your guest also ran the risk of being catapulted from their slumber in the middle of the night.
But folding beds, in particular Jay-Be folding bed, have long since evolved into a festive essential for Christmas parties. Jay-Be are the UK's leading manufacturer of folding beds, and it's little wonder! They are so robust that your guests will believe they're sleeping in a normal bed. Indeed, it may even be comfier than some people's actual beds at home due to the luxurious mattresses and soft fabric feel.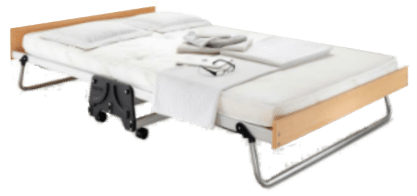 Of course, the greatest plus-point of the Jay-Be folding bed is just how easy they are to store. The bed folds away compactly and neatly, it even has wheels. All you need to do is to roll it into a cupboard when not in use. You can easily store two or three of these beds away in the cupboard or back of the wardrobe and hardly notice they were there. This is perfect for any home where spare space comes at a premium. No longer will you need to have three or four spare bedrooms in order to be an amazing host.
Just think how simple it will be wheel out a Jay-Be bed for a guest. You see, these beds are incredibly simple to assemble when needed due to the advanced technology used. The J-Beds (pictured) have the exclusive Jay-lock mechanism so that you simply pull down the bars and your fold out bed will click into place. Incredibly simple – even after the odd glass of mulled wine.
Jay-Be J-Beds have a strong aluminium frame with wooden accents, which add an elegance to your fold out bed. In fact, the frame is so strong that the Jay-Be beds come with a lifetime frame guarantee. Plus, the Jay-Be technology doesn't just end at a bed that is easy to assemble, this bed is also aimed at providing the inhabitant with an amazing night's sleep.
Jay-Be beds come with the latest in memory-foam technology to provide support for the inhabitants as they sleep. This allows the person to sleep peacefully through the night – perfect for sleeping off any festive cheer and all that turkey. Just think how much more refreshed your guests will feel in the morning than if they had had to sleep on a sofa. Plus, the better the night's sleep they have, the quicker you can chuck them out the next day so you can eat your Terry's Chocolate Orange and turkey sandwiches in peace.