Back Pain? Then You Should Consider an Orthopaedic Mattress
Until you've suffered from back pain you don't really comprehend just how debilitating it can be to your life. Every move, every cough or sneeze – even breathing can cause your back pain. This is why it is so important for anyone who suffers from back pain to re-evaluate the type of mattress they own.
It doesn't matter if you hurt your back in an accident or whether it is the by-product of a strenuous job, to help ease your pain you should consider an orthopaedic mattress. Now you might not think that a mattress can make that much difference to your back but you'll be surprised.
You see, a standard mattress will not support your spine like an orthopaedic mattress. Which is really not good for your back's health! Without proper support for your spine you will make your body – in particular your neck and back – at serious risk of injury. Especially if you haven't replaced it recently as a standard mattress generally needs replacing every 5 to 8 years. Studies have shown that as many as 60% of us wake-up in the morning with a niggling pain in our backs.
But why should you choose an orthopaedic mattress?
Well the benefits are endless depending on what type of orthopaedic you choose. All orthopaedic mattresses seek to realign a person's spine, which is what will help you both relieve any pain in your back and, crucially, help to stop you damaging your back in the future.
There are three main types of orthopaedic mattress
Memory foam, open coil and pocket sprung. Each type have their own benefits for your back, so it's important to seek advice on what mattress will suit your body.
In general pocket sprung mattresses and open coil mattresses are quite similar. An open coil mattress can be thought of as one large sheet of coils connected by a spiral wire. This creates a very firm mattress that gives the back excellent support. There is a downside to an open coil mattress though, as the coils will deteriorate over time meaning this mattress will need replaced regularly.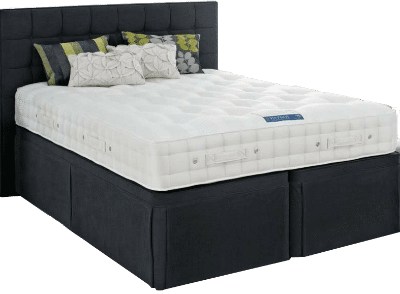 A pocket sprung mattress tends to be more popular (and at times more effective) than an open coil mattress due to the way the mattress is constructed. Instead of a sheet of coils, a pocket sprung mattress has individual coils which are contained within pockets. This is beneficial to the mattress as it makes it much more flexible allowing the mattress to contort to the shape of your body. Additionally this mattress is much more wearable and will last longer than a coil sprung mattress. Just look at our best selling Hypnos Orthocare 10, pictured. which is available with either a firm or extra firm tension
One of the most popular of all the orthopaedic mattresses, though, is the memory foam mattress. This mattress actually works with the heat of your body to mould your shape into your mattress creating utter comfort and support for your back. Again this mattress will last longer than a standard mattress.
Another advantage to memory foam is that it allows you to sleep without being disturbed by your partner. This is especially advantageous to back-pain sufferers as your partner can move around without waking you up – and as anyone who has back pain knows, getting back to sleep can be difficult.
An orthopaedic mattress really is an essential investment for your body. It will realign your spine, support your body and improve your night's sleep – all essential factors for a happy and healthy life. Why not ask about an orthopaedic mattress in-store and an advisor will help you choose the perfect mattress for your body. You could do alot worse than looking at the Which? best buy - Sealy 1400 Pocket Genoa Latex filled with pocket springs and a generous layer of latex.
Image courtesy of graur razvan ionut at FreeDigitalPhotos.net