Bed & Mattress Jargon. Understanding the Bed Industry
Bed & Mattress Jargon
Although we're familiar with the terms used in the bed and mattress industry, how many of our customers are familiar with the 'Jargon'. Big Brand Beds easy to follow guide should help make the bed buying process a whole lot easier.
Types of Springs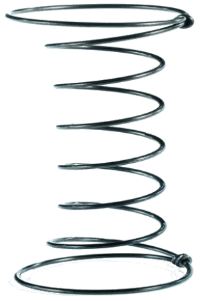 Springs are used in mattresses and in some bases.
Open Coil
The open coil or Bonnell spring has its springs arranged in rows which are connected to each other via a spiral helical wire. These are strengthened and held in tension through an outer perimeter rod which also helps to retain its shape.
Individual Coil
Single springs linked together from side to side or head to toe that vary on spring count and thickness of wire used according to manufacturer.
Continuous Coil
A continuous sprung unit is produced by coiling one individual piece of wire into conjoined springs that run from head to toe.
Pocket Sprung
Small individual springs encased within their own fabric sleeves. They vary on wire thickness and spring count according to manufacturer.
Mattress Construction
This will also have a bearing on the overall comfort of the bed. Mattress constructions include the following.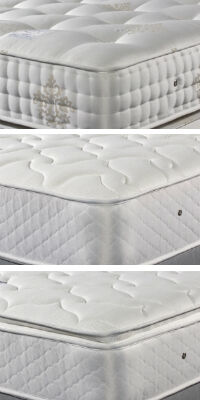 Hand Tufted
This is the traditional method of finishing a mattress and holding the fillings in place. Threads and tufts are forced through from one side of the mattress to the other by hand. They are held in place under tension providing a firmer sleeping surface.
Deep Quilted
Deep quilted mattresses are finished in a variety of patterns. They give the mattress a tufted appearance by sewing the layers of filling together, but provide a medium to soft sleeping surface.
Micro Quilting
A micro quilted finish is also available in a variety of patterns. The top layer of fillings are sewn together to give a quilted pattern that covers the whole sleeping surface whilst providing a softer feel.
Pillow Top, Cushion Top & Box Top
Pillow Top, Cushion Top & Box Top mattresses have extra layers added to the top of the mattress to provide the ultimate in comfort.
Comfort
The comfort from a mattress is enhanced by the fillings used in its construction. These are called comfort layers and the more layers used the greater the level of comfort experienced.
Divan Bases

These are an integral part of any bed and generally come in two types.
Platform Top
Platform top, padded top or hard top divan bases are designed to provide a firmer feel to any bed.
Sprung Base
The base has a full layer of springs attached to the top to provide additional support and comfort. Generally these will be open coil springs, but with more bespoke products you have the option of a pocket sprung base.
Firm Edge
This base has a timber surround with springs covering the sleeping area. The benefit of a firm edge base is you can enjoy comfort and support right up to the edge of the bed.
We hope this helps explain some of the jargon, but if you need more information give Big Brand Beds a call on 01273 857388.
Image courtesy of Stuart Miles at FreeDigitalPhotos.net