AIS Bed & Mattress Shows 2012 to 2015
AIS Bed Show September 2015
The journey to the AIS Autumn Bed and Mattress show started extremely well. However 40 miles in was another story. An accident causing problems between junctions 15 and 17 on the M25 was starting to cause problems from junction 11. The upshot of this was it was the longest journey I can remember to get to Solihull – 4 hours 15 minutes. Our first port of call was:
Slumberland
We couldn't really avoid there stand as it was placed right in the entrance to the exhibition hall. What a change to the collection. There are 9 new mattresses with base options to include drawers, ottoman storage, legs and varying heights. There are 10 stunning headboards and 10 fantastic fabric options to have your bed upholstered in. We loved the new viscose stretch knitted fabric which just pinged back into shape. We would like to become a brand ambassador by having 5 models in our showroom. These would be complemented with up to the minute point of sale including iPads and stands.
Staples
If it isn't broke don't fix it. No changes to Staples beds and pocket sprung mattresses.They continue with 3 cracking Dreamworld models, The Maple Supreme, Larkspur Deluxe and Poplar Elite.
Myers
Myers were also launching a brand new collection of beds using the my from Myers to prefix the entire range. Even the fabrics have names like my trendy jeans. We liked the way they had divided the new beds into 4 collections my natural, my ortho, my memory and my snugly. The Myers My Maga Relaxing Memory divan & mattress was our favourite. It won't be too difficult for us to select one bed from each range.
Silentnight
Silentnight have made big changes as well. They have introduced the Dreamworld Mirapocket 1200 Moonstone, which is made to a very similar specification to their Which? Award winning 1200 Pocket Deluxe. Our favourite, the Mirapocket 2800 Latex Pearl divan and mattress. With 5 great fabrics to upholster your bed in, Silentnight are sure to be a hit with our customers.
Rest Assured
Once again we were drawn to the Rest Assured Cassis Natural 1400 bed. With a no turn mattress that has great comfort and embroidery detail, this is ideal for our Rustington store. However we have yet to take the plunge and put their beds in our showroom. It's all about space!
Relyon
Relyon have upgraded the mattress covers on our Royal Options Collection to a sumptuous white tick. The current range hasn't changed and the only additions were new upholstery fabrics and 3 headboards. We still really like the Relyon Natural Ortho Pocket Intense mattress, an extra firm bed which will feature in store soon.
Sealy
Once again, Sealy have come up trumps with their new beds. A great new Celebration range of 3 beds replaces the successful Diamond collection. We particularly liked the 2800 Pocket Geltex Avola and the 2600 Pocket Latex Pescaro. The Which? Best buys, yes 2 of them, the 1200 Pocket Silver Genoa and the Messina Pocket 1400 are going from strength to strength and now have an ottoman offer. Finally, Sealy have done away with the torsion sprung base and all their new beds will come with platform tops divan bases.
Hypnos
Hypnos is another of our suppliers that have got it right so no need for change at this show. A courtesy call to Ian to arrange a couple of new showroom models and to book an appointment to sort out a range plan for our new store in Burgess Hill and we were off.
Two hours 15 minutes later we were back in Brighton!
---
AIS Bed Show April 2015
The journey to our showrooms in Shirley, Solihull was slightly protracted due to a car fire on the M25. However we arrived at 10.00am and set to work.
Hypnos Beds & Mattresses
We had a good meeting with Ian from Hypnos. They hadn't made any changes to their range and we were reassured that the we were stocking the best sellers, including the Hypnos Orthocare 10 and Alto Pillow Top. If we were to add to the range, the Serenade Supreme on a firm edge base would fit into our collection nicely.
Myers
It was then on to see Mark at Myers who were introducing some new beds. The pocket sprung range has been revamped and they have introduced one new bed. The Orchid Orthocare is a replacement for the Leo 800 Pocket. It's the same specification, but got a great new cover giving it a fresh new look. The Memory Extra Pocket replaces the Lynx 800 Memory Pocket. The new Lily Natural Pocket is an 800 spring unit upholstered with wool and cotton. It's certainly felt supportive and comfortable. We have a new exclusive twin spring bed, the Latex Premium, which is based on their best selling Latex Charm.
Slumberland
There were no changes at Slumberland with the exception of the addition of 3 new upholstery fabrics. They felt the current range, although good, was weighed heavily towards the grey palette. The introduction of beech, aubergine and spruce enhances the colours.
There were also no changes at Staples. The existing range was only recently launched and is performing very well.
Sealy
Sealy have introduced some new beds and have included a north south opening ottoman base to the pocket sprung range. The Ortho Backcare Excel replaces the Ortho Backcare Supreme. It's now a firmer bed that will be suited towards the larger person. The Profile Pocket 1400 is a new bed that compliments the Profile Contour Support.
Silentnight
Silentnight launched the Holly 1200 Latex Supreme. This replaces the Duchess and following the success of the Imperial 2800 Latex incorporates a latex comfort layer. We have a fantastic offer on the Imperial 2800 Latex which will see a 150cm / kingsize 4 drawer divan and mattress selling for just £799.
Relyon
Relyon's current range remains as is. They have introduced 3 new ortho models, with the Natural Ortho Pocket Intense being the pick of them. This is supported by the Natural Ortho Pocket Firm and the Natural Ortho Pocket Ultimate.
It was our first opportunity to look at the new Dunlopillo collections. All the old favourite names have been used, but the beds have a great new look. You can still order a Diamond or Firmrest, probably the best selling models Dunlopillo ever ran. We will certainly be looking at becoming stockists once space permits.
Jason at Breasley showed us the new Naked Beds, a range designed by ladies that offer a feminine touch. Using a softer palette of colours and a unique gentle floral border the style and design is targeting the ladies that buy beds. In a recent survey by Breasley they found that 85% of consumer products are bought by women. There are 4 models and they looked great. No changes to report on Breasley mattresses.
Suddenly the day has gone and it's time to return to Sussex. Once again a very worthwhile trip to AIS.
---
AIS Bed Show September 2014

It's always good to get feedback from the AIS bed shows and particularly encouraging that Big Brand Beds selected 4 of the top 5 beds at the September show.
It won't be long before the Sealy Alder Memory, Sealy Spruce and Hypnos Alto Pillowtop join the Silentnight Duchess 1200 Luxury in our showroom.
Sealy Beds
These 4 beds replace similar models that have been discontinued. The Sealy Alder Memory Deluxe replaces the best selling Sealy Polaris Memory Luxury. Featuring a generous layer of memory foam and 5 zone mattress support and a great new look, this is sure to be another winner.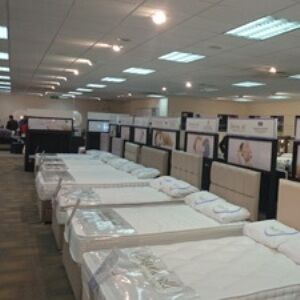 For a slightly softer feel, the Sealy Spruce, which replaces the Meridian is the bed for you. Sink into the luxurious layer of latex for the ultimate in comfort and pressure relief.
Hypnos Beds
The Hypnos Alto Pillow Top replaces our Pillow top Silk. This bed has been extremely popular, thanks in part to
Lenny Henry's Premier Inn adverts on TV. The Alto mattress features the unique Hypnos 6 turn reactive spring system. The pillow top offers exceptional additional surface comfort luxury. The 10 year guarantee gives the consumer added confidence.
Silentnight Beds
The Silentnight Duchess 1200 Luxury has already proven itself to be a winner in store. This bed gives a firmer level of targeted support to the body via the 1200 zoned pocket springs.
Of course there were other beds we selected. Afterall, AIS bring us the very best beds and mattresses from the finest manufacturers in the UK.
AIS Bed Show September 2014
Once again, it was an early start for us to get from Sussex to Birmingham in reasonable time. The roads were relatively clear and we were seeing our friends at Relyon before we knew it. The new 2 tone Juno 2 in 1 guest bed was a real stunner. A white frame with oak detail on the head and footboard. The new Memory Zoom and Latex Zoom beds were impressive.
Staples Beds
It was then on to Staples who were launching the Staples Dreamworld Poppy Supreme Pocket 800 bed. This is exceptional value at £699 for a double bed with 4 drawers. It is a nice firm mattress on a platform top base.
Myers Beds
Myers have enhanced their offer with the mattress borders matching the divan bases in most cases. We ordered a Myers Backcare Elite bed on legs for the showroom along with a new Dreamworld Elara mattress.
Slumberland Beds
The 3 new beds from Slumberland, Bronze Seal Deluxe, Silver Seal Deluxe and Gold Seal Deluxe were very impressive. As at the At Home show in May, we liked the feel of the Bronze Seal best.
Silentnight Beds
Silentnight were offering some great sale beds. So good was one offer that we were tempted, even though we don't have the space on the shop floor. The Silentnight Duchess 1200 Luxury will be offered with FREE drawers and a king size for the price of a double. This represents a saving of £200 on a 5 foot 4 drawer bed.
Hypnos Beds
We had a warm welcome from Hypnos. We only started dealing with them after the April 2014 show and they have been very pleased with the business we have done with them. The Seasons beds with two sided mattresses, one warm one cooler looked good. 4 new pillow top beds are being introduced and the current range will be phased out by March 2015. They will also be changing most of their upholstery fabrics and headboard range.
Sealy Beds
Sealy have completely updated the Dreamworld range and AIS exclusive models. The winning formulas have remained, but Sealy have increased the levels of fillings and restyled some of the tailoring. New divan fabrics, with matching headboards and contrast piping on the mattresses make for a fabulous new look. We particularly liked the Alder Memory Deluxe, which replaces the Polaris and the Spruce Posture Zone 7 which replaces the Meridian.
Stuart Jones Bedroom Furniture
Our neighbours in Rustington, Stuart Jones were showing their range of bed frames, headboards and bedroom furniture. We particularly liked the new bed frame on offer which will be available in most of the fabrics on offer. They really make a quality product, finished to the highest standards.
Once we have space in our showroom, we will be introducing new models from our suppliers.
As always an excellent show put on by Rachel and her team at AIS.
---
AIS Bed Show September 2013
Monday 16th September is another early start and more battle with the M25. Monday is probably the worst day of the week to take on the M25. Progress was slow as usual. We covered the Brighton to Heathrow leg in 2 hours. We eventually arrived at our showrooms in Solihull after 3 ¼ hours.
First stop was the Sealy stand where they were unveiling what we believe will be one of the most exciting ranges to date, the Sealy Posturepedic Hybrid Collection. Launched earlier this year in the USA it is currently taking the American market by storm with its unique fusion of gel infused foam and springs, stylish tailoring and evocative advertising. All Hybrid models will contain Geltex, a revolutionary new material that is unique in the UK to Sealy and Silentnight. The product has all the pressure relief of memory foam as well as the push back support of latex and has an open cell structure for enhanced breathability and temperature control. These beds are not available online. They will only be available from our store in Rustington.
Silentnight also had a Geltex offer, again a range that is exclusive to the High Street. The Sapphire collection launched in April 2013 of 6 beds and mattresses was on show. This range features 4 mirapocket models and 2 Miracoil models.
Rest Assured where showing the Sanctuary range of 4 pocket sprung beds. Using memory foam, latex and natural fibres in mattresses with 800 to 2000 pocket springs, there is a comfort level for just about everyone. These have been beautifully tailored with the Rest Assured logo embroidered onto the mattresses. They all come with a choice of divan base covers.
Relyon have been working hard to improve their already successful ranges and this can be seen in the three brand new traditional hand side stitched models being displayed to complement and complete the AIS exclusive Royal range. The Relyon Royal Lytham Pocket 1000 was of particular interest, providing exceptional value for money. It is available in all sizes from 75cm to 215cm along with optional choices of standard or new lower height divans and new Herringbone divan fabric colour ways.
The hugely successful Myers offer remains unchanged. However, as from 1 October 2013 all Myer's models will now carry a 2 year Manufacturer's guarantee, which is great news.
Slumberland is launching a special trio of beds creating a simple good, better, best story through spring count and fillings. All three models are pocket sprung with latex and feature the total-edge foam encapsulation system creating outstanding comfort and support. A signature heart knit fabric has been selected and Slumberland is donating £25 for every divan set sold and £12.50 for every mattress to the Marie Curie Cancer Care charity. The beds are aptly named Daffodil 800, 1200 and 1600 to support a very worthwhile cause.
Staples introduced a brand new bed to the Dreamworld range. The Pandora Supreme Pocket 1000 features 1000 pocket springs in a king-size, with cotton and wool for comfort. This exceptionally well priced product is a non-turn mattress for ease of care and features a platform top base.
Our friends from Breasley, Jay-Be folding beds and Stuart Jones were also exhibiting their current ranges.
It's a long hard day, but well worth the visit as it ultimately saves us a bit of time when we go the Bed Show in Telford on Tuesday 24th September.
---
AIS Bed Show April 2013
Big Brand Beds visit AIS to review the new bed and mattress ranges from our favourite suppliers including Myers, Relyon, Sealy, Slumberland and Staples.
It's another early start from Sussex to ensure we are at the AIS showrooms bt 10.00am. The aim of this show is two fold, firstly to address our Dreamworld Collection, to remove poorer performers and develop new stronger models where necessary. Secondly, we have reviewed our exclusive collection and introduced new models to once again strengthen the offer.
We were particularly pleased to see the new range from Myers, who have recently been taken over by the Steinhoff group. The Elara will certainly be a winner, with a double bed (4'6") with 4 drawers selling for £349. Myers also launched 2 new pocket sprung beds, The Leo 800 Pocket Ortho and the Lynx Pocket 800 Memory. Both are extremely competitively priced, with the Leo starting at £329 for a single bed. The introduction of these means that we will be discontinuing the Pluto Flexistore and the Carnaby Latex at the end of May.
The Relyon range has been particularly successful and there are only minor changes being made. The Juno 2 in 1 guest bed has a slight change of colour, with the oak colour being softened.
Following on from the continued success of our Deeper Sleeper campaign Sealy introduced three new products at the show. The Diamond Backcare complements the highly successful Latex Superior model which is already a great success. The all new Eclipse Euro top divan set features high comfort levels and Sealy`s unique zoned mattress construction. The final addition to the range is the Backcare Superior divan set. This model is specifically designed for consumers who want a very firm comfort level but without the traditional tufted method so often used for this style of bed.
Slumberland's collection remains unchanged with the exception of the deletion of the Warwick model. The beds range from the Galaxy Memory with the PostureFLEX spring system to the Contour Supreme with 1600 Pocket Springs, all with Slumberlands Total-Edge foam encapsulation system which gives the sleeper a greater sleeping surface with outstanding edge support and Slumberland's Contour-FLOW memory foam which allows air flow through the mattress thus keeping the sleeper cool & fresh.
Our new exclusive Staples Buckingham model features a Dunlopillo Latex pillow top and has all of the quality features you would expect to find from a brand which carries the Royal warrant. With 2000 pocket springs in a king size mattress, 3 row of hand side stitching and a choice of firm edge or sprung edge divan bases it is sure to be a winner.
New to us was the MiBed range of adjustable beds. The MiBed range has a 5 year guarantee and is manufactured to a high specification in the West Midlands. There are over 20 different models that cover all price points. The MiBed mattress range includes memory foam, reflex foam, latex and pocket sprung. Hand side stitched borders with wool and silk are available for the discerning customer. Other special finishes include Aloe Vera, Coolmax, Outlast and Cashmere with most having washable or dry clean zip-off covers to aid health and hygiene. We have already taken delivery of the Alpina into our showroom and this will be followed by others, including the Larissa, an exclusive AIS model, This model has a 1000 count pocket sprung mattress with a Coolmax hypoallergenic cover and a choice of base colour fabrics.
All in all another very worthwhile trip.
---
AIS Bed Show September 2012
At the recent AIS bed, bedstead, mattress and bedroom furniture show we were introduced to a new range of beds from our top suppliers, including Myers, Slumberland and Staples. Some of our more successful models have been retained and some new models introduced. Here are the highlights from 4 of our favourite manufacturers.
Jay-Be Folding Beds have been refining their folding bed offer to help them capture even more sales in the growing guest bed market. Some of the benefits of buying a Jay-Be Folding Bed include, 48 hour home or store delivery, British made and Lifetime frame guarantees.
Myers Beds launched the new Pluto Flexistore, which takes the place of two models, the Saturn and Quattro. By combining the best of both of these models Myers still offer outstanding value on all size and drawer options. The Pluto Flexistore will continue in the same fabric and quilting pattern style as the Saturn but will have the specification of a Quattro, making sure there is no loss of visual effect.
The Carnaby Latex combining Dunlopillo latex with a twin spring is a great alternative to those customers looking for a non-memory foam bed. The Memory Grand has the highest spring count in open coil mattresses at 928 and offers a fantastic feel with both Dunlopillo latex and memory foam, plus a Coolmax cover.
All Myers beds carry a 12 year manufacturer's warranty and offer an express delivery service on all models within the collection. Myers continue to make a range of excellent value for money single beds, small double beds, double beds, king size beds and super king size beds.
Slumberland have launched a new model featuring a PostureFLEX spring system along with a mini-pocket unit foam encapsulated to give total edge-to-edge support. The Zodiac Memory looks crisp and fresh with a Sensity finish on the ticking to give antibacterial protection for life and Contour-flow memory foam to aid ventilation keeping the user cool. The Slumberland collection of single beds, small double beds, double beds, king size beds and super king size bed offer contemporary beds with modern fillings and covers.
Staples Beds. The range launched at last Septembers show was so successful that it is being carried over this year. The Staples Orion Supreme Pocket 1000 divan and mattress, the Staples Astral Elite Pocket 1200 divan and mattress and the Staples Venus Elegance Pocket 1400 divan and mattress all continue. The quality of fillings and workmanship the Staples Beds employ has been retained along with the traditional hand side stitching feature to give outstanding edge support. This collection gives your customers a choice of base fabrics and feels to select from and two mattress tensions to enable them to find the exact bed for their needs.
And all the above models can be bought as a single mattresses, small double mattresses, double mattresses, king size mattresses and super king size mattresses, so there is something for everyone.
---
AIS Bed Show April 2012
The AIS divan bed and mattress show held at our showrooms in Shirley, Solihull is one of our most important trade shows of the year. It is an extremely busy show as it is only open for 1 day. However it gives the likes of Staples, Myers, Slumberland, Relyon, Rest Assured and Sealy a chance to showcase the new and existing divan bed and mattress ranges.
Due to the success of the divan bed and mattress range launched in September 2011, there were not a lot of changes to our range.
Relyon were showing their entire range, The Relyon Royal Heritage Collection, The Relyon Heritage Collection, The Relyon Classic Collection, The Relyon Memory Collection and the AIS Exclusive Collection. We were particularly interested in the AIS collection, featuring 3 new divan beds, the Relax Pocket, the Calm Pillow Top and the Peaceful Pocket.
The current Sealy divan bed range has been so successful, that there were no new beds or mattresses. Is this because Sealy is the only bed manufacturer in the world that is endorsed by both the Orthopaedic Advisory Board and Allergy UK.
Myer's comfortable beds current range has also been very successful, so they have only launched one new bed, the Myers Halo Memory Classic.
Rest Assured were showing 2 new models, the Silk 1400 Luxury and the Cashmere 2400 Luxury, both of which we ordered immediately.
Slumberland showcased the new Slumberland Bronze Star Collection, the Slumberland Silver Star Collection and the Slumberland Gold Star Collection. All of the mattresses in these collections are foam encapsulated to give total edge to edge support.
The Staples bed range of September 2011 has also been so successful that no changes are required.
Check out the new Relyon divan bed ranges and Slumberland divan bed ranges online at Big Brand Beds.
With the launch of new divan bed and mattress ranges at the recent AIS bed show, there are a few casualties.
AIS demand such a high standard of bed that any that don't earn their keep are got shot of quickly. Therefore we will have some cheap beds (ex showroom models) available at our store in Rustington, West Sussex.
The success of the divan bed and mattress range launched in September 2011 means that there are very few models to clear.
Dorlux have discontinued the Gemini Space Saver. Relyon have discontinued the Relyon Memory Finesse divan bed. A range of 3 Sealy mattresses have been discontinued, the Sealy Pocket Latex , the Sealy Panache and the Sealy CPS Extravagance mattress. These models are all discontinued with immediate effect.
Rest Assured announced the end of the 1000 Pocket Memory Calais, the Memory Pocket Clermont, the 1400 Latex Pocket Normandy and the 2400 Memory Pocket Toulouse prior to the AIS bed show.
Silentnight also announced the finish of several ranges prior to the show. The Chambery, the Monaco and the Pocket Zing.
We have also lost 2 of our adjustable beds, the Sleepeezee Pocket Adjustable and the Sleepeezee Cool Comfort Adjustable. But never mind, we still have a fantastic range of electric adjustable beds.