Hypnos Mattress Review The Hypnos Orthocare 12
Now you may have noticed we've had a little break from reviewing the beds on our showroom floor. This is because our Hypnos beds have been replaced by fresh new models.
We have a large range of Hypnos beds and mattresses in our showroom and have replaced the the Orthocare showroom models with fresh new ones. Hypnos have make improvements and the upgraded new Orthocare collection. There's not much difference but they have slightly altered and increased the fillings. The Hypnos Orthocare 6, 8 & 10 previously had a denim layer, which was made from recycled jeans. This layer of upholstery has been removed and upgraded to an extra layer of wool in the new models, giving them a more luxurious feel and plumped look. The top of the range Hypnos mattress, the Orthocare 12 was upholstered with wool, cashmere & latex. The new upgraded Orthocare 12 has been given an additional layer of alpaca to give a superior feel of comfort and support.
This week my Hypnos mattress review is the Orthocare 12.
Mattress shopping can be one of the most difficult things to do when buying a new bed. There are different levels of quality to consider, and each type of mattress has its own benefits. But in order to know if a mattress is right for you, you need to understand how each operates. Read the Hypnos mattress review below to learn all about the Orthocare 12 mattress.
I always try to review Hypnos mattresses in the morning. This is because at the end of a busy day in our bed shop I am generally feeling tired and the floor would feel comfortable to me!
Hypnos mattresses are designed to provide a good night's sleep. They are made from premium quality materials, and the company has been making them for over 100 years.
What's inside the Hypnos Orthocare 12 Mattress?
This no turn Hypnos Orthocare 12 mattress comprises:
ReActive™ 12 turn zoned pocket springs
Wool
Alpaca
Cashmere
Hand teased hair
eOlus™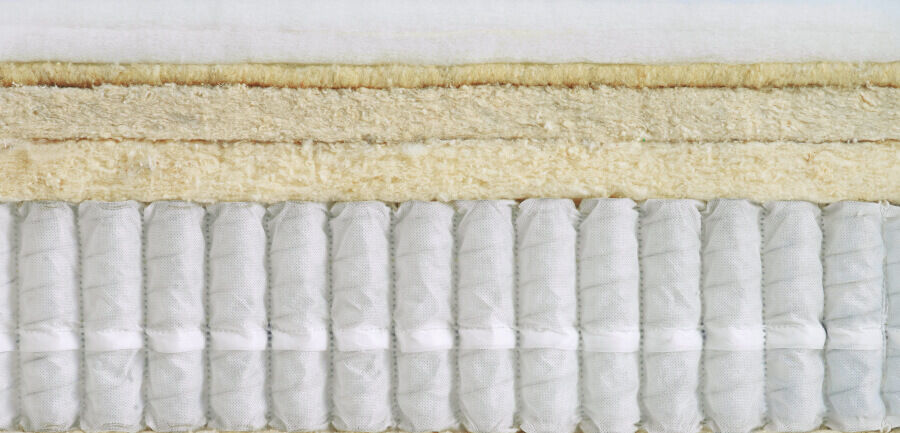 Hypnos Orthocare 12 mattress finishing touches:
Chemical free Belgian damask mattress cover
Hand tufted
2 rows of hand side stitching
Flag stitched handles (4 on a single Hypnos mattress and 8 on a double Hypnos mattress and bigger)
16 air vents on a double Hypnos mattress and bigger
The Orthocare 12 mattress is available in a firm or extra firm tension

Information on all the upholstery fillings and springs can be found on our Hypnos bed & mattress product information page.
Firstly, this Hypnos mattress looks so generously filled it almost looks like it's going to burst at the seams. Luckily, I know this won't happened because it's got hand side stitching and is hand tufted, but never the less it's a monster of a mattress.
To get a true feeling for how this mattress would be for me I would ultimately need my daughter and partner here as 90% of the bed is theirs not mine! This made me think I really do need a bigger bed. Now I did what I usually do when I get into bed, adjust my pillows for watching TV. After moving around, I found this mattress was giving me great support in any position I tried, upright, on my side, front and even the one I always end up in, perched on the edge of the mattress. You know the one, where your partner sleeps like a starfish or a child comes visiting in the night. However, with 2 rows of hand side stitching that ensure an edge to edge sleeping surface I wouldn't feel too hard done by and rolling off the edge.
The New Orthocare 12 mattress has a 3-zoned pocket Re-active spring system with 12 active turns per spring. I couldn't really feel the pocketed springs through the luxurious fillings on top. I'm sure the springs were there doing their job by contouring my shape and weight but I couldn't feel them through the fillings which for someone as boney and slim as me this was great. This is the type of mattress you think you could only find in the luxurious 5 Star hotels in London, New York and Paris, but no it's something you could have at home, and the best part is it's not going to break the bank!
You may be thinking it's not cheap but when you consider a king size mattress (150cm) is £1139.00. It's currently on offer with an upgrade - buy a Hypnos king size mattress for the price of a double. However, before you think it's a rich for you, look at it this way. If it only lasts you the guarantee period of 10 years that's cost you £9.49 a month. Now if you buy a cheap mattress for £299 every 2 years that £12.45 a month, so it just shows.
We always recommend getting a new divan base or similar when buying a new mattress mainly because if support goes in an old base it will damaged the new mattress and possibly void its warranty. Not only that, Hypnos divan bases have come a long way since you may have bought one. They are no longer hidden under valances, they are put on show as a proud centre piece of the bedroom. With multiple storage options and over 40 fabrics to choose from, come and see what we can offer you. And if you're willing to go the whole hog then a matching Hypnos headboard really finishes off the look of this divan bed.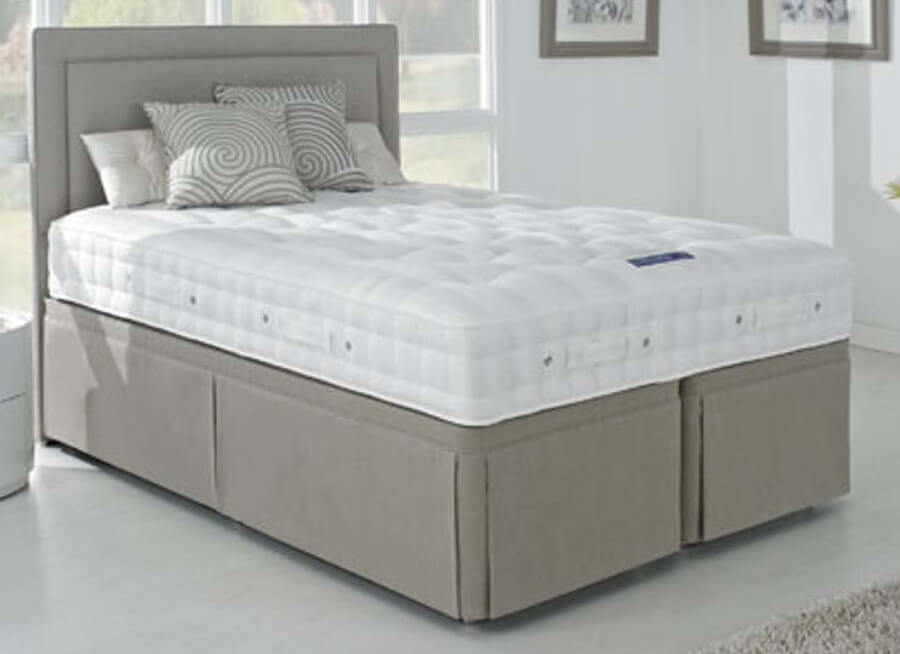 Which Hypnos divan base should I pair the Orthocare 12 mattress with?
For a firmer more supportive feel choose a platform top divan base
Hypnos platform top divan base
Hypnos Hideaway bed
Hypnos ottoman bed
Hypnos EasyStore divan base - Discontinued in September 2021
For a gentler feel choose a Hypnos sprung divan base
Hypnos firm edge divan base
Marks Hypnos mattress review
My overall thoughts on this Hypnos mattress is it is one of the best mattresses I think I have ever tried and if I hadn't bought an super king size Orthocare 8 mattress six months ago, I'd buy one of these.
As there are several choices in this Hypnos mattress range you might ask:
What is the difference between the Hypnos mattresses in their Orthocare collection?
At first glance, this king size mattress collection comparison might be confusing. However, we've broken it down to make it as simple as possible. The mattress comparison table and accompanying descriptions below break down all the key features and highlights.
Hypnos Orthocare 6 Mattress

Hypnos Orthocare 8 Mattress

Hypnos Orthocare 10 Mattress

Hypnos Orthocare 12 Mattress

Turnable

No turn mattress
No turn mattress
No turn mattress
No turn mattress

Spring

Type

ReActive™ 6-turn

pocket spring

ReActive™ 8-turn

pocket spring

ReActive™ 10-turn

zoned pocket spring

ReActive™ 12-turn

zoned pocket spring

Rows of

Hand side stitching

2 rows of genuine

hand side-stitching

2 rows of genuine

hand side-stitching

2 rows of genuine

hand side-stitching

2 rows of genuine

hand side-stitching

Fillings

Wool & eOlus™
Wool, Silk & eOlus™
Wool, Cashmere & eOlus™

Wool, Alpaca, Cashmere,

Teased hair, Talaley latex & eOlus™

Comfort

Levels

Firm & Extra Firm
Firm & Extra Firm
Firm & Extra Firm
Firm & Extra Firm

Comfort level 1-9

(9 being the firmest)

Based on the Firm Feel
Based on the Firm Feel
Based on the Firm Feel
Based on the Firm Feel

Comfort on a Hypnos

Platform top divan base

7
7.5
6.5
6

Mattress Cover

Chemical free cocona infused Belgium damask
Chemical free cocona infused Belgium damask
Chemical free cocona infused Belgium damask
Chemical free cocona infused Belgium damask

Flag stitched Handles

8
8
8
8

Air Vents

16
16
16
16

Woollen Tufts

32
32
32
32

Recylable

100% Recyclable
100% Recyclable
100% Recyclable
100% Recyclable

Guarantee

10 years
10 years
10 years
10 years
Why should I buy a Hypnos mattress?
This video should leave you in no doubt that a Hypnos mattress is one of the most comfortable mattresses in the world
Before you leave, if you found this article helpful would you mind sharing to your social media profiles. Thank you
X Section of mattress based on the Hypnos Orthos Elite Alpaca mattress
Originally reviewed 16 March 2017