Sleepeezee Pocket Sprung Beds & Mattresses

Sleepeezee were a major supplier of divan beds to vokins@home and featured heavily in our high street stores. It is therefore with great delight that we have introduced a wonderful range of pocket sprung beds from Sleepeezee, proud holders of a Royal Warrant.
Sleepeezee has been manufacturing high quality beds and mattresses since the early 1900's. Their beds and mattresses are generally known for their great quality at excellent prices. Sleepeezee will not break the bank, but will give you a top quality product.
The new range that we have introduced caters for all tastes and pockets. The choice of bases is traditional divan beds to contemporary shallow divans on chrome legs, all with a selection of storage.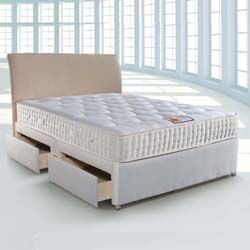 The mattresses are made with traditional pocketed springs and the very latest technologies, including memory foam, latex along with the most sumptuous natural fillings that together deliver an exquisite level of style, comfort and support.
The Natural Comfort Collection includes layers of latex, memory foam, wool and silk, whilst the iFoam Collection features Sleepeezees's exclusive high density pressure sensitive iFoam. The Memory Technology Collection features generous layers of memory foam as the name suggests. The Backcare Collection is a range of 3 extra firm beds with no turn mattresses.
The Sleepeezee Baroness 2000 divan bed was always one of our best selling specification beds and represents great value at £769 for a double bed with 2 drawers. If it's a firmer bed you require then a single Backcare Extreme 1000 sells for just £299. It's not a cheap bed, but the price might make you think it is.
Check out our great new range of Sleepeezee beds and mattresses today. You might find something you like!