How much does a divan bed cost?
You're looking to buy a divan bed and one of the first questions you are likely to ask is: How much does a divan bed cost?
This is not the easiest question to answer, but I will try and outline some general pricing points.
We have to be aware that the purchase of a divan bed is not as straight forward as one might think. Like buying a car, there are so many options that can affect the price, including brand, storage and add ons.
Like many important purchases you'll make, you can buy into the basic divan bed. However, extras / upgrades can be added. Many customers take a long-term view when buying their bed as it will provide comfort and longevity of use. Therefore, they're prepared to invest a little more to get exactly what they want.
Dreams, The Sleep Council, The Sleep Foundation and several others recommend changing your bed or mattress every 8 years. This is great for business but should not be cast in tablets of stone. If you have invested in a cheap mattress then you will probably need to replace it sooner. This is not a one fix fits all. There are many factors that should influence replacing your bed. Afterall, why would Hypnos mattresses come with a ten-year guarantee?
It's likely you are going to use your bed every night for approximately 8 hours, so picking the correct bed is vital. This is why Big Brand Beds always recommend a visit to our bed shop to try before you buy.
Unfortunately, there are some people that are totally price driven and ultimately end up sacrificing comfort. Sadly, you can't trade in your old mattress for a new one. It's always worth waiting if you can and investing a little more when finances permit to get the one that is right for you.
Once you have found the right mattress you need to consider the divan base and various options available.
Size. When shopping for a new bed consider this. The bigger the bed the better the sleep quality if you are sharing. Consider upgrading to a king size bed or super king size.
Choice of upholstery. There are many fabrics to have your divan base covered in.
The comfort of the divan base. Do you need a more supportive base or a softer feel? A platform top base offers a firmer feel, whilst a sprung or slatted base for a gentler feel.
Height of the base. Most manufacturers offer a choice a standard height divan base (average 36-40cm) or a ¾ height.
Do you need storage? Will storage drawers suffice, or do you need a bit more storage than they offer? You might consider an ottoman or Hideaway base.
Castors, glides or feet? Is the bed on a wood or laminate floor? If so consider locking castors.
Choose a matching headboard.
We also offer a fully bespoke service and can make divan bases to exact specifications. This includes reinforcement, height, width, length and upholstery in customers own fabric. Please contact us for further information.
How much does a divan bed cost?
For the purposes of this article, we have based the price on our full selling prices of some of our suppliers which can be subject to sale reductions. These prices are correct at the point of publication but subject to change.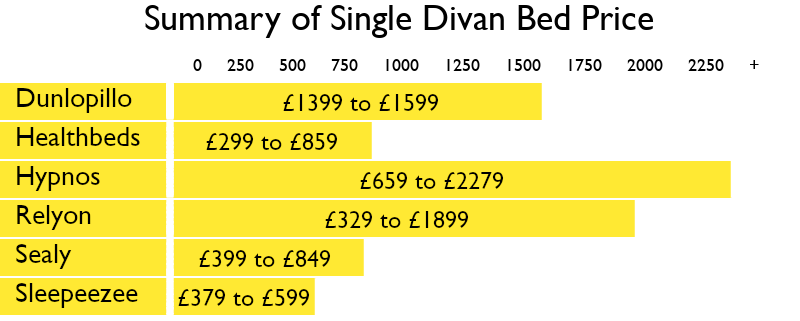 In you are on a budget but still looking for quality, there's a great range of Relyon beds at very competitive prices, all of which are delivered free of charge.

What are the benefits of spending more?
Many divan bases are made to a similar standard. However, as you move up the pricing ladder features such as dovetail joints on storage drawers feature. Drawers are strengthened to take more weight. Key joints on the frame are fully glued and screwed providing exceptional strength and rigidity. Glides and plastic twin wheels are replaced with chrome shepherds' castors. Additional comfort can be gained by replacing a platform top divan base with a firm edge sprung divan.
The majority of the increase in cost is in the quality of the mattress. Generally, this is to do with the quantity and quality of the fillings, whether natural, memory foam, latex or gel and the number of pockets spring. However, be aware that some manufacturers quote extremely high amounts of pockets spring in their mattresses and all is not as it seems. Multiple layers of mini springs are used to increase spring count.
You don't always have to spend more to get a bigger bed. All the research shows that quality of sleep is improved with a greater sleeping area.
If you really want to splash out, you can design your own bed with the fully bespoke service offered by Hypnos.
How do divan beds compare to other beds?
Ottomans. In general, an ottoman divan will cost more than the 4-drawer version of the bed. That said it will provide more storage space.
Bed frames. There are a great variety of bed frames on the market with vastly differing prices. Metal bed frames, wooden bed frames or fabric bed frames offer a stylish alternative to a divan bed. There are some very cheap bed frames available and often customers will choose to invest more in their mattress and buy a less expensive frame.
Delivery, assembly and disposal of old.
We try to deliver all divan beds to all mainland post codes free of charge. However, there are a few exceptions, details of which can be found on the relevant brand information page. With the exception of Sleepeezee beds all divans are assembled by our deliver crews which is also included free of charge. There is also a disposal service so your old bed or mattress can be taken away at the time of your delivery. Terms and conditions apply
Before you leave, if you found this article helpful would you mind sharing to your social media profiles. Thank you