Beds for Autistic Children
We have lots of enquiries from our customers about beds for autistic children.
Conversations start with the fact that their child has broken many beds because they have autism. They get stressful and anxious, can be hyperactive and sometimes aggressive. They are prone to repeating the same thing over and over again. Plonking themselves down on the bed or severe rocking are common themes. We know most kids like to trampoline on their bed, which is not recommended, so imagine a child with autism continually doing this. Most beds won't take this strain and this has led us to ask:
What is the best bed for an autistic child?
Ultimately when you are looking for beds for autistic children or indeed adults, you are looking for a heavy duty bed, one that is robust and durable. In more extreme cases you might need a strong bed with safety rails to stop the child from falling out of bed. This is a more specialist bed that we do not supply. However, we have a good range of strong beds that might be suitable.
The bed frame you choose is going to be the foundation to the rest of the bed. It is the "bed" of the bed. The frame is what holds the mattress up, and gives it support. Our heavy duty bed frames are made from a variety of materials, such as metal, wood, and wrought iron. They provide a sturdy platform for your mattress, and also allow you to store items underneath. They come in a variety of styles and are available in a range of materials. All standard sizes are available and in some cases beds can be custom made to your own specification. So if you're looking for a single heavy duty bed frame for a youngster or a king size for an adult, read on.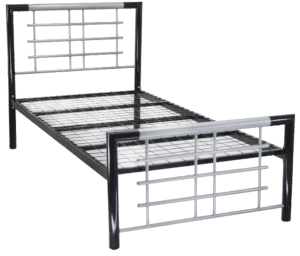 So which bed frame is the best? Well, that depends on what you want from your bed frame and your budget.
Heavy duty metal bed frames
Our range of heavy duty metal beds are suitable for use up to 300kgs / 47 stone including the mattress. The reinforced contract grade metal side rails perfectly compliment the strong mesh base, making for a strong bed. There's a choice of traditional bed frames with high and low foot ends as well as good selection of more modern styles. All our heavy duty metal bed frames are available for 2-5 day delivery – conditions apply.
Heavy duty wooden beds
The strength of our strong wooden beds is not just in the wood but in the metal frame that is attached to the side rails. The frame is made from solid oak and is made to last. All the joints are dovetailed creating extremely strong joints. The oak frame is reinforced with a steel frame, making the bed extremely strong and sturdy. Four strong cross bars provide additional strength to the bed frame. One thing to be aware of is unlike the other heavy duty beds, the wooden bed frames come with a slatted base. In severe cases the slats are much more likely to get damaged than a mesh base. Like our Heavy duty metal bed frames our heavy duty oak bed frames are also tested to hold 300kgs in weight, which is 47 stones. These are also delivered on a 2-5 day service.
Extra strong beds
A well-made wrought iron bed frame is a long-term investment that will last for years and will not only look good in the bedroom but will help provide a good night's sleep. If you are looking for an extra strong bed, look no further than our wrought iron beds. These heavy duty bed frames are very strong and have been tested and certified to be suitable for a single individual user weight of 40 stone (254kg) or a total weight limit based on 2 people of 65 stone (412kg). They are made of wrought iron and have a strong fully welded mesh base which is supported by strong cross bars. Each bed is specially made to order, with the choice of all standard bed sizes from single to super king size. There is also the option of customising your colour and the size of your bed.
Ultimately, when you're buying a bed frame there are a number of things that you need to consider before you make your final decision. As you have seen above, there are many different types of bed frames to choose from, and each type will have its own set of advantages and disadvantages. The type of bed frame you choose will depend on your individual needs and requirements, and it's important to consider all of these before you make your final decision.
Strong divan beds
If a heavy duty bed frame isn't what is required, we have a range of reinforced divan bases. The beauty of these is they can be upholstered in many different fabrics, have the option of storage drawers and enable you to fit a headboard of your choice.
Heavy duty mattress
Now you might also need a good heavy duty mattress and our hotel quality mattresses might just fit the bill. Made slightly firmer than the average and with reinforced sides the hotel mattresses we have for sale are the perfect solution. These heavy duty mattresses suitable for an individual weight of 160kgs / 25 stone. If two people are sharing the limit is 255kgs / 40 stone.
Although this is a range of heavy duty beds that have been reinforced to take extra weight, they have not been made to be abused. They are certainly the strongest beds we offer and should provide a good solution.
Before you leave, if you found this article helpful would you mind sharing to your social media profiles. Thank you
(All prices correct at the time of publication, but subject to change)