All you need to know about Canadian Goose Down Duvets
In this article, learn everything you need to about Canadian Snow Geese, Die Zudecke duvets and TOG Values
What is Snow Goose Down?
The White Snow Goose's natural habitat is in Greenland, Canada, Alaska, and the North Eastern tip of Siberia. During the winter Snow Geese migrate to warm parts of North America. Canada produces some of the best white goose down as the geese have had to adapt to the extremely cold temperatures.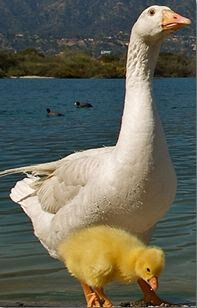 Canadian White Snow Goose Down is the soft under plumage that geese have to keep them warm and dry. It is a layer of insulation underneath the feathers. Where feathers have hard quills, down does not. Down clusters have very soft spines and are soft and fluffy, with many filaments growing from them.
The larger the down cluster the greater the insulation properties. Therefore, as geese are larger than ducks, less Goose Down is required to provide the same insulation as using Duck Down.
Goose down is one of the finest lightweight insulators and its unique construction creates thousands of tiny air pockets. These air pockets, provide the excellent insulation that goose down is known for. Goose Down is also extremely breathable and allows body moisture to pass through it and evaporate.
It is extremely resilient and will return to its original fluffy shape when squashed.
Goose down varies in colour. The colour depends on the age of the goose and the season that the down is collected. Grey down is generally cheaper as it is slightly less desirable than white down and can show through a white down proof cambric cover. However the colour of the down does not affect the performance and you will enjoy the same benefits whether buying white or grey down.
Like what you read so far? Why not treat yourself to one of our luxurious Die Zudecke Canadian Goose Down duvets today?
Die Zudecke Canadian Goose Down Duvets
This quilt is filled with high quality 100% Canadian Goose Down, one of the finest down fillings available. The duvet has a cassette construction with a 310 thread count cotton cambric cover and finished with a double piping. This stops the filling moving around, thus avoiding cold spots.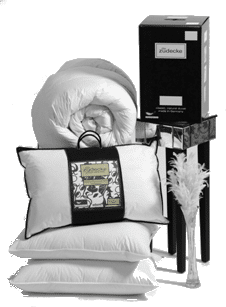 Produced in Germany using the highest quality fillings and fabrics, they're certainly not cheap duvets. However, Die Zudecke duvets are priced very economically and no compromise has been made on the quality.
They're available in 4 different tog ratings, light summer weight quilts through to warm winter quilts - 3.0 tog, 6.0 tog 9.0 tog and 13.5 tog and available in 5 sizes - Single, Double, King size, Super King size and Emperor for those extra big beds. The 3.0 and 9.0 tog quilts are connectable so can be combined to make a Duo / All Seasons Duvet of your choice.
With The Best Prices on the Web, FREE Delivery within 48 hours now is the time to buy our best selling Die Zudecke duvet. However, on occasions you might have to allow a little extra time for an emperor size duvet as we only keep limited stock.
Check out our range of Die Zudecke Canadian Goose Down Duvets today and you could snuggle up under a new quilt tomorrow.
What does Die Zudecke Mean?
We've been selling Die Zudecke duvets for years, but have you ever wondered what Die Zudecke means. These luxurious duvets are made in Germany and their language is extremely complex. Googling the word found a multitude of answers including decke (noun) blanket. The verb is zudecken, to blanket, cover up.
There was only one thing for it. I had to ask my friend John Shouler at Tongue-Tied for a literal translation. Tongue-Tied, a translation company have 3 offices in the UK, one in Jersey and one in the USA. The manager of the Manchester office happens to be German! She kindly obliged us with the following:-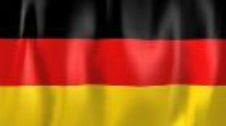 "There are several meanings for it in English - it could mean cover, blanket or duvet, depending on the context but in general, Zudecke (die is just the article) means something that you cover yourself up with in bed." Well there you have it.
Traditionally, in the UK, a blanket is a described by the OED as 'a piece of woollen or similar material used as a covering on a bed or elsewhere for warmth.' It is not a product filled with goose down. If you don't like duvets, we have a great range of John Atkinson blankets. Choose from cellular or solid, made from cashmere, merino wool or lamb's wool in a huge variety of colours. The edges are finished satin bound or traditionally whipped.
For those that love duvets, the Die Zudecke Canadian goose down duvet is one of the finest on the market and at a very affordable price. There are plenty of cheap goose down quilts on sale, but nothing compares to the luxury of the Canadian goose down. It is even better than the Hungarian. Why you might ask? Well the clusters of snow goose down are much larger, providing greater insulation. Air is trapped by the filling and warmed up by body heat. Therefore, the duvet is even lighter, but still gives the same warmth properties.
What is a TOG Value?
I worked for 10 years as a consultant to De Gruchy the leading department store in Jersey. On one occasion, we employed 2 Irish girls as summer seasonal workers in the linen department. Both girls were training to become vets. I overheard a conversation between one of the girls and a customer which ultimately had everyone in fits of laughter. The customer had asked "What does Tog stand for?" Quick as a flash she was told 'temperature of goose'. It was a great answer, almost perfect if applied to a Canadian goose down or Hungarian goose down duvet. It just doesn't work if the filling is synthetic.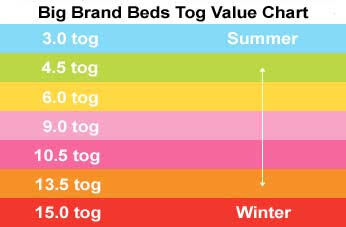 The Oxford English dictionary describes Tog as an early 18th century slang term for a coat or outer garment.
But what does Tog really mean when used in reference to a duvet?
It's an industry standard for measuring the warmth of a duvet. Tog is a unit/measurement of thermal resistance. The higher the number the higher the thermal resistance and the less heat is lost.
Now for those of a technical disposition, the following quote from Wikipedia might help. A tog is 0.1 m2K/W. The thermal resistance in togs is equal to ten times the temperature difference (in °C) between its two surfaces when the flow of heat is equal to one watt per square metre*. Trust me, I'm lost to!
Basically, the higher the Tog rating the warmer the duvet. A 4.5 tog quilt is suitable for summer use whilst a 13.5 tog will keep you extra warm. With modern insulation and heating we do not have the demand for the 15 tog duvets that we used to, so we no longer stock them. We are however selling more and more 9 and 10.5 tog duvets for year round use..
Before you leave, if you found this article helpful would you mind sharing to your social media profiles. Thank you
Originally reviewed 15 April 2016