Dunlopillo Mattress Review The Dunlopillo Millennium
I have been really looking forward to reviewing this Dunlopillo mattress as I have slept on a Dunlopillo Royal Sovereign for 26 years. And my Dunlopillo is as good as the day I bought it. I won't be changing it anytime soon.
This week our Dunlopillo mattress review is the Millennium.
We have a king size Dunlopillo mattress on a sprung timer divan base in our bed shop. My Dunlopillo bed has a sprung base so am expecting a different feel to the one that I am used to.
What's inside the Dunlopillo Millennium Mattress?
This no turn single sided Dunlopillo Millennium mattress comprises:
3 layers of breathable, responsive latex

Premium comfort layer
160mm 100% pure Dunlopillo latex core
Additional support layer

7 comfort zones
Information on all the fillings can be found on our Dunlopillo bed & mattress product information page.

Dunlopillo Millennium mattress finishing touches:
Removable mattress cover
Plus mattress cover developed with innovative cooling technology
Naturally anti-allergenic, anti-bacterial and anti-microbial
Treated with our Actipro™ technology
The Dunlopillo Millennium mattress is available in a medium tension

Lying on the mattress I am immediately taken with the cool PLUS cover. You really can feel the different between this and the regular cover we have on the Orchid mattress next to me.
The Millennium is a lovely deep latex mattress with a medium comfort and it feels great. I'm tall and of a big build so I start playing with the adjustable slats. This Dunlopillo divan base is made using birchwood slats. The firmness of the slats can be controlled through the use of comfort adjusters positioned in the lumbar region of the base. Moving the adjusters to the outside edge of the system will create a firmer feel, whilst positioning them centrally will create a softer feel. You really can feel the difference. This would be an ideal set up for my wife as she is 9 stone to my 16 ½. Latex mattresses are different to memory foam mattresses in that they both mould to your body shape, but on a latex mattress movement is easy as latex is very resiliant and returns to its original shape quickly.
The Dunlopillo Millennium mattress is a great choice for all people. It offers great support and comfort regardless of the position you choose to sleep in. Lying on my side or back, this bed is perfect for me. My body sinks into the mattress, but not too much. I can feel the support of both mattress and divan base. I love the resilience of the latex mattress. As soon as I get off the bed the mattress returns to its original pristine look. They really are bullet proof. Not only are Dunlopillo mattresses no turn, they also never need to be rotated. This is a massive benefit as not only are they extremely heavy, this Dunlopillo mattress is 61kgs, they are very floppy and difficult to handle. This probably explains why Dunlopillo mattresses are always delivered in a big flat box.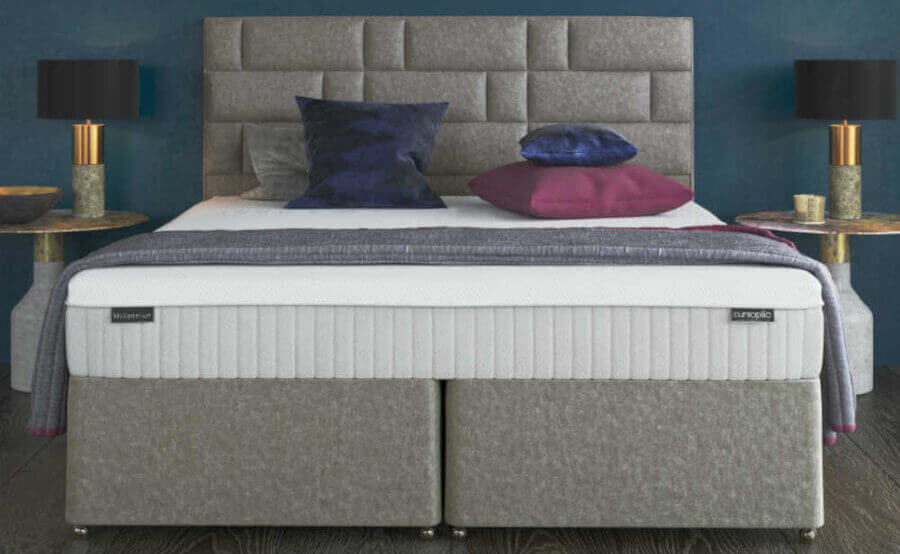 Big Brand Beds Dunlopillo mattress review
It's easy to see why Dunlopillo are the Rolls Royce of latex mattresses. The Millennium is an absolute winner from Dunlopillo. This is an extremely comfort bed which I would happily buy once my Royal Sovereign comes to the end of its life. I love the adjustable slats which offer different levels of support.
Before you leave, if you found this article helpful would you mind sharing to your social media profiles. Thank you