Sleepeezee ask Big Brand Beds to become Product Ambassadors
Big Brand Beds are delighted to announce that they have been awarded the status of Sleepeezee Product Ambassador.
Founded in 1870, Sleepeezee has become one of the leading and most loved bed manufacturers in the UK. Using only the finest quality materials and highly trained craftsmen, Sleepeezee has built a reputation for manufacturing some of the best pocket sprung bed producers in the UK. This is endorsed by a Royal Warrant from His Royal Highness The Prince of Wales.
In order to strengthen the Sleepeezee brand, they have decided to create a selective distribution network. This strategy involves making their beds and mattresses available to a selected group of retailers only.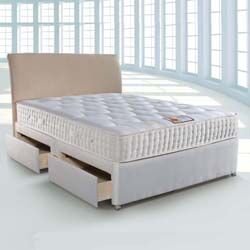 In choosing Big Brand Beds, Sleepeezee looked at the quality of our website. They were particularly interested in the website being user friendly and easy to navigate. We passed! They also required clear product categories, on site search facility and above all good informative product descriptions. Another pass! A secure shopping experience goes without saying to ensure customer confidence. They also required good sales and after sales service, which we pride ourselves on. After all, the Vokins family have been retailing in Sussex since 1882, so we certainly have experience in that department.
It is wonderful to receive this accolade as in the past our high street stores have been a major stockists of Sleepeezee beds. This reinforces our ties with one of the leading manufacturers of quality pocket sprung beds and mattresses in the UK.
We eagerly await the new range of Sleepeezee beds and mattresses. They will be launched at the 2014 Bed Show at the International Centre, Telford in September.
To view our current range of Sleepeezee beds and mattresses follow the link.