Relyon Pocket Memory Classic Mattress. Which Best Buy

The Which Test Lab tested memory foam mattresses and the Relyon Pocket Memory Classic came second and was voted best buy. The test score achieved 69%, the winner getting 70%.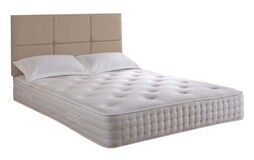 The report stated that the mattress stays very stable if you move on it, so is a great choice if you or your partner tends to turn a lot during the night. It won't change much over time, even after years of use, and it was one of the most porous mattresses they had tested, meaning it's less likely to get damp if you sweat.
Being honest, there were a couple of very minor negative issues. The mattress doesn't do a great job of supporting your body if you're tall and sleep on your back. As a heavy mattress, it was hard to turn around.
What was really interesting was that the Tempur mattress performed worst and was the most expensive memory foam mattress on test by £1000. It just goes to show that price isn't everything.

The Relyon Pocket Memory Classic mattress has 1500 pocket springs in a 5ft (150cm) king size mattress and 50mm of visco elastic memory foam to help reduce stress, aches and pains. At £469 delivered, it is great value and you have the confidence of buying a mattress that has been thoroughly road tested by Which?, not the easiest customer to please.
Check out the Relyon Pocket Memory Classic mattress online today