All our beds with deep divan bases are available with a range of drawers and storage options. Myers, Rest Assured, Sealy, Silentnight, Slumberland and Staples recommend 7kgs of storage. Relyon's solid timber drawers complete with dovetail joints on the Heritage and Royal heritage collections are amongst the strongest on the market holding a whopping 25kgs of storage. All other Relyon beds will hold up to 15kgs.
Bed storage is a great way of using what would be wasted space and in no way affects the quality of the divan base. It's perfect for storing bed linen, bedding, pillows, sheets or even your spare Die Zudecke goose down duvet.
Single divan bases have the option of one large drawer, a sliding door, known as a slidestore divan base, or most commonly, 2 drawers. As headboard bolts can be fixed at either end of the divan bed, the drawers can open on the right or left hand size.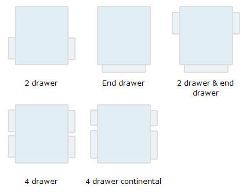 Standard double divan bases (4'6") and king size divan bases (5'0") are available with the largest choice of storage drawers. The options are one big end drawer, 2 drawers which are located at the foot end of the bed, 3 drawers where two drawers are located at the headboard end of the divan bed and one end drawer and two 4 drawer storage options. 4 large storage drawers is the most common option, but the continental drawer system is becoming more popular. Continental drawers or 2+2 drawers have two small drawers located at the headboard end of the divan bed. This enables drawer to be opened around bedside cabinets and two large drawers at the foot end of the bed.
Not all of our divan bed suppliers offer all the above options. The combinations available are listed on each divan bed.
Please note that the weights quoted are for guidance only and we can accept no responsibility for overfilled drawers collapsing.