Jay-Be Folding Bed Review The Jay-Be Crown Premier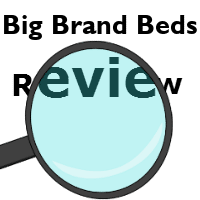 Jay-Be are renowned for making excellent folding beds, so it's the right time to review our best seller.
This week our Jay-Be folding bed review is the Crown Premier.
The Jay-Be Crown Premier folding bed is more than a fold away bed. This Jaybe bed comes with a substantial headboard and is easily opened as it has automatic folding legs. With an 18cm deep sprung mattress it is more like a permanent bed and stands 42cm high. It is easier than most folding beds to get into as it is a bit higher. The other benefit is being a little higher it was much easier to get out of again. Some folding beds are so low to the ground that you might need a helping hand to get you back on your feet. Fortunately, this is not the case with this Jay-Be bed. Being a full sized small single bed there is more room to spread out than the average folding bed. You can feel your weight is evenly distributed when you spread out across the whole 76cm x 198cm of the mattress.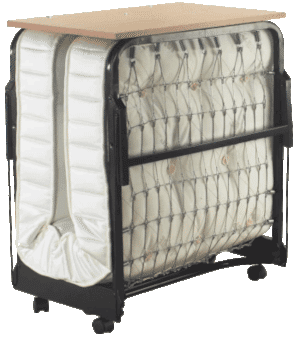 The strong durable J-Tex sprung base provides good support and comfort for the mattress. We believe the J-Tex base system is superior to the wooden slats used in some folding beds as the slats have a tendency to break. Not that that is a problem if you have a Jay-Be folding bed as the frame comes with a lifetime guarantee and Jay-Be will happily send replacements. Apart from the Jay-Be J-Bed, which is a full sized single bed at 90cm wide, this is the most comfortable folding bed I've used, and it has a 190kg user weight. Not that I need that, but I am 6'4"!
Once used it is easily folded up ready for storage. Being a large folding bed, weighing 30kgs, the Crown folding bed isn't the easiest to manoeuvre when folded in the storage position. On occasions the heavy duty 360 degree castors can have a mind of their own. However, this is not a reason to avoid this bed as all the benefits out way this, you just need 2 hands to guide it.
Big Brand Beds Jay-Be folding bed review
A really good fold away bed, that I at 6'4" found comfortable and supportive. Certainly, one of the best folding bed mattresses around. This not only a great folding bed for domestic solutions but is also ideal for guest houses and hotels.
Before you leave, if you found this article helpful would you mind sharing to your social media profiles. Thank you