Divan Beds – What are the Alternatives?
We've all had that conversation. You know, when your granny catches you lovingly looking at that pretty bed frame on the tele and proceeds to give you a good hour lecture on why a divan is the only possible bed you can have. After-all, a life without a frilly, feathery divan cover is no life lived at all!
But don't listen to your granny, well you should listen to your granny, just not on bed advice. Long gone are the days when a frame was a few flimsy pieces of wood flung together to make a bed. One overzealous sneeze and you could find yourself on the floor in the middle of your now dead bed's carcass. That was then!
These days a good quality wooden or metal frame is so sturdy that they might just out-live your granny's favourite divan. And the sturdiness isn't even the best part – these frames are absolutely gorgeous. Think gothic glamour beds straight out of a castle in Game of Thrones or a manor house in Downtown Abbey.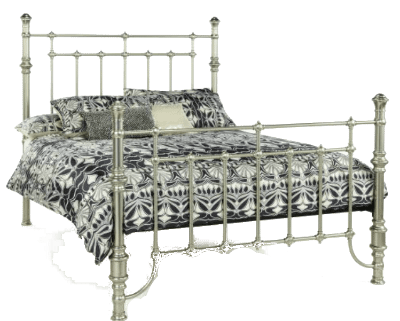 So where do you start with getting out of your divan stupor and into the wonderful world of frames? Well first of all you've got to make a choice –will it be metal or wooden?
Metal Bed Frame
For true opulence in the bedroom then a metal bed frame should be choice for you. Our Serene Sebastian frame (pictured) with its metallic matt nickel finish would make a stunning centrepiece to your bedroom. Match it with rich, royal purple sheets and cushions to create ultimate glamour.
For more of the gothic, medieval look, the black metal the Serene Ethan bed frame is the perfect addition to your bedroom. Especially with its gorgeous brass finishings. Or, if you fancy something a little more romantic, a white or cream frame has all the drama of a metal bed but with a softer touch. Try the Serene Abigail bed for that romantic feel, but with a contemporary design.
Of course, one of the best things about metal bed frames is the ability for designs to have incredibly ornate patterns. Take the Serene Florence frame in brass, its design looks like a vintage French bed.
Wooden Bed Frame
Now metal frames aren't to everyone's tastes – but that doesn't mean you need to run back to that old divan bed. If you don't want a metal frame then a wooden frame could be the option you were searching for.
You see, by adding a wooden bed frame to your bedroom it's like adding a touch of nature to your décor. The Serene Lincoln bed frame offers a chunkier frame with an American White Oak finish. Even better the bottom of the bed is free so the taller of you can stretch out their feet as far as they like without the risk of stubbing a toe.
For a darker wood the Serene Amelia bed in Honeyed Oak (pictured) is elegant and beautiful. You could also opt for this in a white finish – again like the white metal frame this adds a softer, romantic feeling to your bedroom. And it's not just metal that can have beautifully carved design, just take a look at the Serene Maiden bed that mixes beautiful wood with a contemporary pattern.
Don't believe the hype that if you want a bed to last you must go for a divan. Wooden and metal frames can be just as sturdy when bought from a quality brand. And don't forget, all of our mattresses are suitable for use on slatted bases. Turn your bedroom into one just as beautiful as those on the TV – even your granny will be impressed.