William Henry Vokins has Bus Named after Him.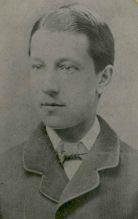 William Henry Vokins, the founder of our business in 1882 has been recognised for his major contribution to life in Brighton & Hove by having a bus named after him. Brighton & Hove Bus & Coach Company name every new bus they have after a deceased person that has had a significant influence on the local area.
His name appears alongside such greats as Sir Winston Churchill who went to school in Hove, Isambard Kingdom Brunel who also went to school in Hove between 1816 – 1820 and Rudyard Kipling who came to live in Rottingdean in 1897.
The accolade came in December 2016 when the bus company took delivery of a new 808 Mercedes Wright Streetdeck with the registration SK16 GWM.
At just 21 years old, William Henry Vokins moved to Brighton to start a drapery business in North Street. The business thrived and over the years grew to became a much-loved department store, employing 4 generations of the Vokins family.
Retailing has changed dramatically since William Henry Vokins last stepped foot into his store in Brighton in the 1950's. He set a wonderful foundation for the business, which continues today, trading under the name of Big Brand Beds (From the Vokins Family. Trusted since 1882).
We still offer the great service that Vokins was famous for from our showroom in Keymer Road, Burgess Hill, West Sussex, RH15 0AD.