Relyon Roll Up Mattresses. Buy today for next day delivery

Unexpected visitors? Relyon Roll up mattresses are ideal for these occasions. A roll up mattress is perfect for the customers who can't wait weeks for delivery. We can deliver Relyon roll up mattresses next day. Once in your bedroom, the roll up mattress can be unpacked in minutes. Then wait for a couple hours and the mattress is ready to use.
You can choose a great mattress with no compromise on quality. A big benefit is they are vacuum packed so they shrink down to about 25% of their full size. This is good news if you have restricted access or are worried about causing damage to walls and other objects when on route to the bedroom.
Once you have decided that a roll up mattress is for you, you need to choose which one is right for you. Relyon have divided their range into 4 categories. The entry level is simply foam. The Dream Comfort, Dream Support and Dream Comfort Supreme fall into this group. Next is the combo foam and pocket spring. Three more mattresses make up this range, the Pocket Comfort 1050, the Pocket Assure 1250 and the Pocket Serenade 1550 (pictured). These 6 mattresses offer great value for money as they are less expensive than memory foam.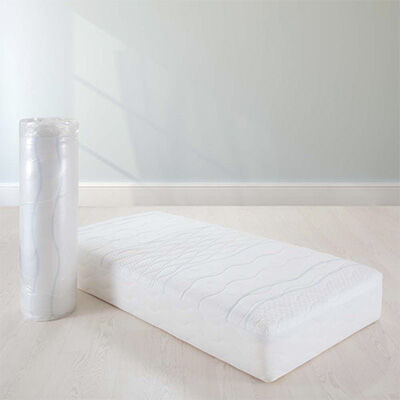 For those that require better support, the Simply Foam with a Memory Foam sleeping layer is the mattress for you. Try the Memory Dream or Memory Classic. Top of the range is the Combo Memory foam, foam and pocket springs which incorporate the Memory Pocket Comfort 1050, the Memory Pocket Assure 1250 and the Memory Pocket Serenade 1550.
Memory foam softens in reaction to body heat and moulds to your body contours. The support provided by memory foam reduces stress on pressure points thus providing a better nights sleep. It also improves blood circulation as the body is correctly supported.
On top of this, Relyon have selected 3 different mattress covers. An entry level quilted damask, a soft stretch removable Coolmax cover and the Combo cover. Coolmax is the original performance fabric for sportswear used by top athletes. It's fast drying and gives long lasting performance.
The Combo cover is removable for dry cleaning, deep quilted and has high-tech Aircool 3-D spacer fabric borders. Aircool is a high performance multifunctional spacer fabric with built in airflow and provides high moisture transfer and is quick drying.
If the above isn't a good enough reason to check out our range of Relyon roll up mattresses, then surely a 5 year guarantee will encourage you.