John Atkinson Wool Blankets

We have just taken delivery of a range of John Atkinson wool blanket samples in the shop and within one hour had sold 4. With that kind of reaction we decided to put them on our online showroom, Big Brand Beds.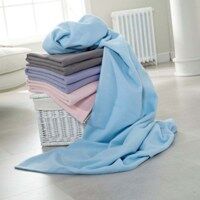 Over the years we have sold thousands of wool blankets. Our two main suppliers were John Atkinson and Early's of Witney. The Vokins family had links to the Early's business, with one of my relatives marrying a member of the Smith family, the owners of Early's blanket mill during the late 1800's. I remember on a visit to Witney seeing a family tree in one of the board rooms and seeing the Vokins name on it.
This is a tale I recently told Roger Hopkins, who was managing Director of Early's for many years. He is still in the trade and was visiting our store with a range of duvets, the arch enemy of blankets.
Anyway, I digress. The range of pure new wool, merino wool, lambswool and cashmere blankets is extensive. They are manufactured in Yorkshire in a huge range of colours, from the traditional wool white and champagne to high fashion colours.
In store, we have definitely noticed a renewed demand for wool blankets. After all the lightweight cellular blankets and merino wool are ideal companions to a duvet. They also act as great throws.
The John Atkinson Pure New Wool Blankets enhance our great range of bedding and are well worth a look.