How to Choose the Perfect Bed Frame
Choosing a bed is one of the most important decisions you'll make for your home. Not only is your bed your bedroom's focal point, but this is also a piece of furniture you'll spend the most of your time in. So, it's essential that you love your bed!
One of the most popular beds on the market are bed frames. Mainly due to fact they come in such a wide array of materials and colours including metal (Serene Edwardian II pictured), upholstered, leather and wooden.
But what are the advantages of a bed frame over a divan?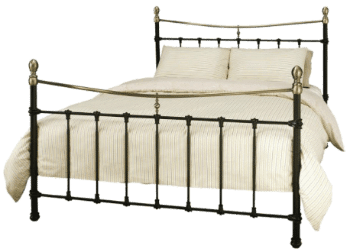 1: Your bed frame is open underneath meaning that your mattress gets continuous air flow. This is particularly important as we sweat a lot when we sleep. By giving your mattress more breathing space with it will keep your mattress feeling fresher for longer.
2: You can store more bulky items under a bed frame. Divan beds usually have drawer storage, but the spacing is limited. With a bed frame, you can utilise the full space under the bed.
3: Due to the open space associated with a bed frame, it can be easier to use your hoover attachments to clean under and around your bed. This can be particularly useful in reducing the number of dust mites in your bed as these live off the skin cells we shed at night.
4: Unlike some divan beds, which can be quite high, there are bed frames that are much closer to the ground. This is advantageous to people with back or leg problems as you'll be able to get in and out of bed much easier.
5: Frames tend to be delivered ready to be assembled, which is important if you live in a home with less spare or narrow halls – where it can be hard to manoeuvre a larger divan bed. If you plan on moving your bed, you simply dismantle it. Always check the tightness of your bed screws every month or so, though. Looseness in the fittings will cause your bed to squeak, which can be very annoying.
Once you've decided that a bedstead is what you're looking for, you'll need to decide on a material. Bed frames are very versatile these days and each type comes with its own advantages and disadvantages.
Wooden bed frames are the most popular, for good reason too! Not only is wood an incredibly strong and sturdy material for a bed, but it's also incredibly versatile. There are various different types of wood available – all with different colours and grains that each have their own appeal.
Plus, wood is easily carved into a number of shapes and designs. If you're looking for a grand sleigh bed with ornate design or a simple sturdy bed that will be neutral in your room – a wooden frame will cater to all tastes and visions. You can even change the look in the future by painting it.
Over the past few years metal beds have become popular – particularly in black and cream – due to the romantic and sophisticated appeal they give to a bedroom. They also tend to come with intricate patterns at both the head and foot end, as well as decorative knobs. Metal beds can take up less space than a wooden or leather frame, so if you're looking for the glamour of a frame but with the space-saving appeal of a divan, then a metal frame is likely your perfect choice.
Of course, just like with any bed, quality is key. If you buy a cheap frame bed expect the legs and slats to break easily. Especially on a poor-quality metal bed where the metal can easily bend. The key to buying one that lasts for years, is to research reviews and look for a bed that uses strong materials. A cheap bed is a false economy – you may feel like you're getting a bargain at the time but you'll end up paying more by frequently needing to replace it.
We have a great range of Julian Bowen and Serene bed frames. See some of our best sellers below.