Dunlopillo - the Which? Best Buy Mattress
When a manufacturer of mattresses has both a Royal Sovereign and a Which? Best Buy Award (for the second year running no less) then you know you're buying into quality. Which is true, as Dunlopillo is a leading British maker of latex mattresses as well as pillows.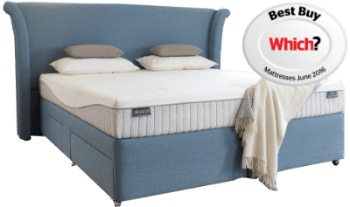 Dunlopillo latex foam was created over 85 years ago, led by Mr E. A. Murphy, when the company's scientists created a new type of latex foam made from natural sources. It was actually the first of its kind to be used as seating pads on public transport and was even used as the seating on airplanes. This was because the latex technology meant the seat stayed fresher for longer – despite such high usage – and would keep its shape without the need for the pads to be constantly flipped or plumped. It was from here that the company started to make mattresses, that similarly didn't need to be flipped. In fact, their latex technology became so popular that is was used in the Houses of Parliament during the 1950s.
In later years, the Dunlopillo latex mattress was found to be twice as effective at killing bed bugs in comparison to a spring mattress. Dunlopillo mattresses were soon implemented into hospital beds where their mix of anti-bed bug properties and the fact the mattress helped patients with back and hip problems sleep better, made them very popular.
These days, which is evident from their awards, Dunlopillo are still regarded as the best latex mattress manufactures and are incredibly popular due to them naturally protecting their sleepers from allergens, dust mites and odours.
The Which? Best Buy award itself is incredibly prestigious to win, as the consumer body (the biggest in the UK) is known for extensively testing household products to find consumers the best products for the best prices. Thus, if a product has a Which? seal of approval then consumers know it's a good product to invest in.
This year, the Dunlopillo Royal Sovereign mattress kept its Which? Best Buy Award after rigorous testing that led to an impressed 72% score. This included test categories such as breathability, brand comfort rating, body support and overall durability – all attributes consumers would look for in a quality mattress.
The Which? review stated that the 100% pure Dunlopillo latex – that provides seven comfort zones – provided a high level of luxury as well as being a mattress that will last you years into the future without sagging or becoming too soft to provide support for you back.
On the award, Dunlopillo brand director David Wescomb said: "The Royal Sovereign mattress is a blueprint for comfort and for it to be awarded Which? Best Buy for the second year in succession is a great achievement."
Yet it wasn't just the Which? Best Buy Award that Dunlopillo excelled at during the Which? awards. A survey based on comfort, satisfaction and value for money saw Dunlopillo being listed as the joint second place for the Best Mattress Brand as well as being listed as one of the Best Pillow Brands.
On these further accolades, David Wescomb went on to say: "We're proud to be endorsed as a Best Mattress Brand from the trustworthy and consumer champion Which? It is a perfect accolade to Dunlopillo's pro-active development in providing a truly unique sleeping environment."
If you'd like to invest in one of Dunlopillo's award winning mattresses for your bedroom and even enjoy the luxury of a pillow, visit our showroom at Keymer Road, Burgess Hill, West Sussex, RH15 0AD where we have a great range on display. We've got the Diamond and Firmrest on a remote controlled adjustable base and the Royal Sovereign and Orchid on sprung timber bases. There's a fabulous choice of fabrics to upholster your bed in and headboards that can be upholstered to match.
There's plenty of information on all the Dunlopillo beds and mattresses on our website, but if you prefer to deal with a real person, give us a call on 01273 857388.