Amazing Autumn Bed Offers Brochure
vokins@home and Big Brand Beds are sending their customers a great 4 page A3 brochure with some amazing bed offers to tempt you. The brochures will be delivered to you very soon. We hope you wont be disappointed with these cheap beds.
All these amazing offers are availble in store or online at Big Brand Beds and all beds in the brochure will attract free delivery.
The Amazing Autumn Bed Offers 2010 brochure features the following divan beds from top suppliers such as Myers, Relyon, Rest Assured, Sealy and Silentnight.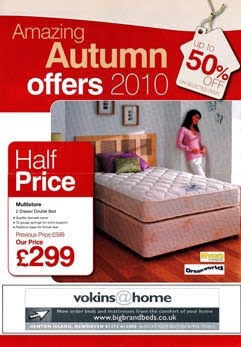 Myers Multistore 2 drawers double bed is just £299. No wonder the Multistore is our best selling budget bed. For a bed of this quality it is excellent value.
Myers Cameo double bed comes with 4 drawers and is our number 2 best seller. At £399 for a 4 drawer sprung edge divan and mattress it is outstanding value.
Staples double bed, the Brittany with 2 drawers. The orthopaedic mattress is hand tufted and pocket sprung. It was £599, but now only £499.
Silentnight Deauville Miracoil 7 king sized bed with 4 drawers. It's on offer with a free upgrade from double bed to king size bed at no extra cost. The unique miracoil spring unit is cleverly designed and features a no roll together system with extra support in the centre third of the mattress. The mattress is upholstered with a layer of memory foam for your comfort. The Deauville is a great buy at £599.
Rest Assured 1000 Pocket Memory Ortho Anniska 4 drawer double bed. There are 1000 pocket springs in a 5ft mattress and at £599 for a pocket sprung bed it's a must. Plus, it's on offer with a free upgrade from 4'6" to 5ft at no extra cost.
The Sealy Memory Dream Silver 4 drawer double bed has a platform top base for a firmer feel. The pillow top mattress gives great comfort and is a Sealy Ultra Posturetech spring unit. The mattress cover incorporates tencel which helps regulate the body temperature, all for just £599.
Silentnight Chambery Miracoil 7 king sized bed with 4 drawers.Softness for your shoulders, firmness for your hips and extra protection for your lower back. The mattress features the Silentnight Cirrus airflow system and it's yours for £699.
Relyon Pocket Options 1000. This 5ft bed is offered with 2 drawers for £749. The Pocket Options 1000 mattress has 2 rows of hand side stitching and comes in a choice of tensions. The solid wood drawers are a feature of Relyons divan bases. £749 for a Relyon bed is exceptional.
Need help with making payment? We might be able to help with interest free credit and beds on credit, subject to status.
Why not look at these amazing offers on our website Big Brand Beds now.
All prices quoted will be held until 31/10/2010. E & OE