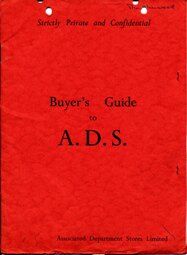 Associated Department Stores Ltd (ADS) , which prior to incorporation was known as the British Merchandising Club, formed back in 1928, was formed in 1963 by a group of 20 or so independent department stores, none of whose interests conflict geographically. These stores included well known high street names such as Vokins of Brighton, Barbers of Fulham, Clements of Watford, Denners of Yeovil, Elys of Wimbledon, Freemans of Liverpool, Joplings of Sunderland, Pearsons of Enfiled, Russell & Dorrell of Worcester and Weekes of Tunbridge Wells to name a few.
Associated Department Stores Ltd (ADS) 1963
The aims and objectives of ADS were primarily for sourcing the best quality merchandise at the best possible price. However, statistical and other information was and is freely and frankly exchanged between Principals.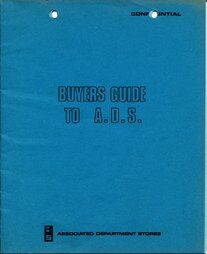 By 1964 the groups combined turnover was in excess of £20 million, so they appointed Mr M Riches as Director and took a prestigious central office at 4 Harley Street, London W1, which it was hoped that members would make full use of and treat as their London Office.
It was soon recognised by the group that nationally advertised brands were being subject to price-cutting. Therefore, in order to remain competitive, the indepenedent businesses will rely increasingly on "own brands". And so the trade mark Czarina was registered.
Czarina would give Vokins and others a head start against many of our competitors. "CZARINA" was only to be used on first class merchandise of outstanding value, which had specifically been approved by the ADS Merchandise Committee.
It was agreed that buyers meetings should be held twice a year for most merchandise groups, with a Steering Committee appointed to prepare for these meetings.
The group thrived and by 1970 had over 100 retail outlets with an annual turnover in excess of £56 million. Specialist Selectors were now operating in the following departments.
Linens and Soft Furnishings
Men's and Boy's Wear
Ladies' Underwear and Separates
Childrens Wear and Fashion Accessories
Ladies' Fashions and Millinery
Electrical and Hardware
Floor Coverings and Furniture
In August 1971 a wholly owned subsidiary company, CENPAC (ADS) LTD, was formed to undertake the central payment of specified accounts. Once sufficient experience was gained, more suppliers would be introduced to the scheme, thus avoiding the necessity for members to constantly open new accounts.
As the group grew, new offices were sort and the group relocated to Edware Road, London.
Associated Independent Stores Ltd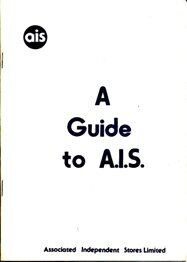 With continued growth and a change of name to Associated Independent Stores Ltd, the rapidly expanding group moved offices to Tricorn House, Hagley Road, Birmingham. This was a more central location and reflected a membership that came from across the whole of the UK.
Today, AIS operates out of wonderful purpose built offices and showrooms at Cranmore Avenue, Shirley, Solihull. AIS supports independent retailers ranging from single high street shops to flagship department stores and specialist retailers operating over 600 outlets across the UK, Ireland and Channel Islands, with a combined turnover of £1.8 billion.
The Vokins family, vokins@home and Big Brand Beds are all proud to still be very much part of a thriving AIS family.